When you walk into a bookstore and your daughter sees the book she's been seeing on the desk in your office for weeks, actually there in the bookstore, part of a display that contains other books that are clearly real books, and finally gets that you are part of that thing, it's kind of a great moment.
Here's what it looked like on New Year's Day at Joseph Beth Booksellers.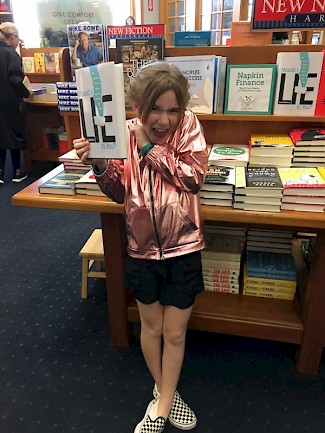 And . . . I have an event at Joseph Beth TONIGHT at 7 p.m. I'll be talking about the book with editor-in-chief of Cincinnati Magazine, John Fox. (Fun fact: I wrote my first story for him 20 years ago and now he edits my regular column at the magazine.) We'll have a little conversation and then we'll open it up to questions. Then I'll sign some books. You don't have to buy a book to come! You can bring your existing copy to get signed. Or if you have the audiobook or the digital book or no book at all, that is okay. Just stop by!
Amazon Reviews Appreciated
If you are reading the book and enjoying it, I would love it if you went to Amazon to leave a review.
Readers use Amazon reviews to make decisions about books, even if they are going to go buy them at their local bookseller. We live in a world of reviews. I think it's mostly a good thing. It's just stressful when you are the author!
WOULD I LIE TO YOU in the Press
If you're talking about the book to friends or colleagues and trying to describe it and some of the issues it covers, I've got some shortcuts for you. You can send them to this recent New York Times piece I wrote that lists the six surprising things about honesty to start off your year . . . or this piece for Business Insider about a new way to think about workplace honesty.
Also, if you want to hear me talk about the book, I was recently on Cincinnati Edition on WVXU 91.7 (listen here; it's about 13 minutes). My project now is figuring out how I can get Terry Gross to call. I went to a talk of hers in like 2002 and I'm pretty sure we made eye contact for a second. That totally means I'm on her radar, right?
Speaking of believing in magical things happening, my friends, family, and colleagues are truly the most magical part of my life. Your support has been . . . I actually don't even want to give it just one adjective. Because it's been everything. Thank you all, deeply.
Want to Order the Book?
To order the book, follow these links to buy it at your preferred bookseller, including the audiobook (which I narrated). The library is a terrific option too. If your library doesn't have it, recommend they purchase it.