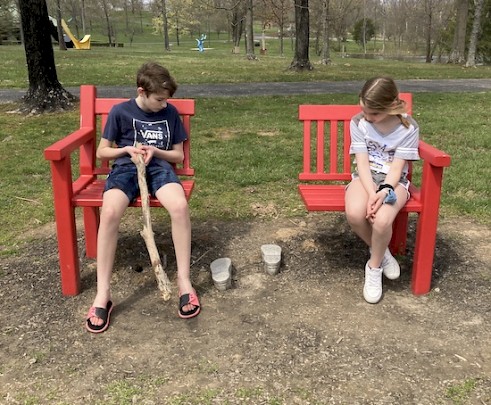 I scarcely know where to begin.
Which suggests I should just start right here, right now.
My community of 9,000—a suburb about 12 miles north of Cincinnati—is on fire with divisiveness. We're split on everything and share nothing.
Or at least Facebook would have me believe this.
For example, one local man with a persistently loud voice and shockingly poor writing skills is continually posting his "theories" on a "community" page he created. He recently put forth the idea that perhaps our local park wound up with a sinkhole after the big storm in June because God was smiting it for being the site of the city's Pride picnic earlier that month.
Then, there is a woman who responds to nearly every single post on the town forum with misinformation, guised in a mock cheerful voice. Another woman seethes with anger any time there is a suggestion that our town could be more welcoming, admonishing anyone who complains to just leave already. And oh! The school levy! Taxes! Masks! CRT! Cancel culture! Incorrect statements and rebuttals. And rebuttals to the rebuttals to the rebuttals.
Social media has been revolutionary for raising awareness about so many issues, and I've learned a lot by following people who don't look like me or have the same experiences as me. I've also found like-minded people and had some "aha" moments.
But on the flip side, social media can also skew what you think is happening in your community, and make you feel hopeless. It can make you feel like everything is at stake, at every moment. And while many things ARE at stake right now (like um, possibly our democracy), you likely won't make much of an impact by arguing with someone on a Facebook forum. But you will make an impact by showing up (Zoom counts!) to meetings, by talking directly to your community leaders, by emailing and calling decision makers, by funding people doing good work, and DEFINITELY by showing up to vote in your local elections this November.
That shit matters so much more than the dumpster fire that is most certainly any social media forum where people can express opinions.
This is not a new idea. Hell, if I searched my own blog archives, I would probably discover that I've written this same post, just with a different arrangement of words. I think we need to reset right now, though. Or at least I do. I've been tied in knots these past few weeks with all the nastiness being exchanged on various town Facebook forums.
Think of it like this: You're at a party, and there is a small group of loud people arguing in the corner. Most of them have had too much to drink. Their inhibitions are lowered. They will say anything to get a reaction. They call you over . . .
What if instead of taking the bait, you used your energy to look up information on your city council or school board race on the ballot this November? Or to have a respectful, curious, in-person conversation with a friend who sees the world differently than you? Or to give to a GoFundMe for a local family who needs it? Or to contact your kid's teacher who assigned a diverse book to let them know you support them and hope they keep assigning books like this? Or to donate such books to a classroom, or perhaps to read a book yourself about a topic you don't understand or an experience you've never had?
When you do these small but meaningful things, you won't have the same burst of adrenaline and indignation you get from engaging with a troll. But you'll feel a lot less helpless. And hopeless.
I'm not saying to never push back on a Facebook post or correct misinformation—I certainly look for chances to do these things meaningfully. Mostly, what I'm saying is don't spend your time on Facebook in lieu of showing up where the decisions are actually made.
Did You Know I Wrote a Book About Honesty?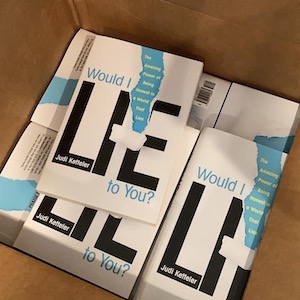 I put up a post the other week about being terrible at selling my book myself, and people started commenting and messaging me that they wanted to buy a signed copy. It occurred to me I should have been doing this all along!
So, I'm selling signed paperbacks for $10 each and signed hardbacks for $15 each. I am offering porch pick up for local people (I'm a 45243-er), but happy to ship anywhere in the U.S. for $3. If you wanted to buy several copies (which obviously I'm open to!) I'd charge a bit more for shipping, but contact me and we'll figure out. You can buy through PayPal or Venmo.
I'm PayPal.me/judiketteler or @judi-ketteler on Venmo. Put your address and email in the comment, and I'll confirm shipping with you.
Of course, you can also buy it on Amazon or from your local independent.
Other Books I'm Digging Right Now
Favorite books I've read lately:
Favorite books I've listened to lately:
I've gotten into audiobooks this past year (there was a great opinion piece by Farhad Manjoo in The New York Times last week about the joy of audiobooks, and I must say, I'm a bit of a convert).
[The fine print: these are affiliate links. As an Amazon Associate, I earn from qualifying purchases.]