A concerned dad. A frightened 4-year-old clinging to his leg.

Attack of the stuffed polar bear!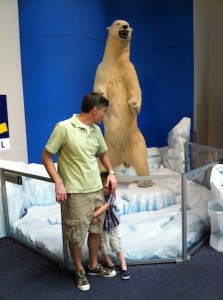 I love this picture I took of my husband and kid this past weekend during our visit to the (very amazing) Indianapolis Children's Museum. Mostly, I love it because while it presents an image that is completely believable (daddy protecting scared kid from creepy polar bear), it doesn't in any way represent what the moment was actually about.

Here's what was really going in: my husband was looking over to the side to cajole our coy 2-year-old girl into the picture. And the wild boy, after a random moment of affection for his pops, was about to launch into a series of karate chop poses, and try to scale the bear.

Things are not always what they appear.

Realness Has Left the Building

I wish it were always this funny when the things you see don't match up with the original idea behind them.

But this business of starting with one intent and then having something completely different show up can be downright painful.

Case in point: earlier this week, I spent a few hours helping an agency I partner with write a proposal for an organization. We were presenting our case to them about what's missing from their web site. My job was to address the rather large gap between what they say their brand is about internally and how they talk about it on their web site.

When I watched the video of their chief person talking, I could see her passion. She 100 percent believed in their mission of making the world better through the service they provide. And if she believes it, she's probably instilled that in her staffers. But when we look at the site, it's just not there. I mean, there are some words there that are trying to convey it. But they are twisted around into strange formal-sounding sentences, mismatched from page to page, and chopped up between images that don't really work.

It's such a weird disconnect, this thing that happens in the translation of the stuff an organization says every day to its people (employees, sponsors, vendors, clients, members) and the message it puts out there in a public way. It reminds me of when creative writing students first try to write dialog between two people. Presumably, these novice writers know how to have a conversation. And they know how to put together sentences that make sense. But the two things don't line up, and they wind up writing sentences that don't convey how people talk in conversations. The realness is missing.

It's a big, busy world out there with a lot of hacks. So we are supposed to sound professional. We are supposed to sound authoritative. We are supposed to sound like we care.

But we forget to be real.

So something else shows up. It looks like we're cowering in the shadow of a silly stuffed polar bear, when really, we want to sit on its arm and eat Skittles.

So why does it happen? Why do good people doing good work forget to be real in how their brand communicates?

Well, when I look at what happened with my picture, another version of the moment showed up because I don't have the right eye or ability to capture in life the thing I see in my brain. (Oh, and because I was trying to get children to cooperate, but let's table that for this discussion.)

To capture in words for the page the thing you hear yourself saying in your brain: that ain't easy. It just sounds easy once it's done. In fact, that's the problem: too often, organizations mistake clarity for an underdeveloped thought. It just can't be that basic, the chief marketing officer says to herself. It can't be so simple, the entrepreneur says to himself.

Yes, it can. Please let it be that simple.The strongest brand voices have a very simple directive behind them.

So here is my challenge to you: work very hard to make it be simple. Get as simple and close to the real picture as you can. You can add complexity back in later. If after all is said and done, you can't live without your jargon, then add back some of those words (if you must). But get the picture right first.

Otherwise, I will send a polar bear to eat you.

On another note: September was supposed to be my hiatus month. It didn't happen, and that's totally okay. But I am taking the very last week of the month to regroup and refresh, so I can start October with new energy and implement some new ideas. See you in two weeks.

Want to sign up to receive these weekly posts via email? Look over to sidebar on the right! Get the first chapters of my ebook when you sign up there. Or, browse past articles and sign up right here.
Comments
Posted by Ivan on 03/27/17 2:33am