Football isn't really my sport. Except there are two things I love to watch. First is when there's a bunch of fancy action, and suddenly there's a guy with a ball who is running right through people, creating holes to move where there are no holes—and he just keeps going, even as the defense is trying to drag every limb to the ground. I think I love that because it reminds me of my 15-month old, who—although she is a smiley vision in fuchsia—is every bit of a running back, navigating obstacles (mostly her brother) in her way.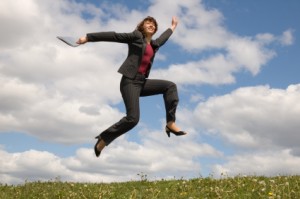 But what I really love is when some guy is just running toward the end zone, faster than seems possible. So fast that for a second, you think you might be fast-forwarding your TV. It's not the physical effort or display of strength I love, because that's just a matter of sweat and practice. No, I love it because I know it's really, really scary to run with that kind of abandon, when you think your heart might burst or your lungs might fall out. If you ask one of these guys what they feel when they're running toward the end zone, I know they are not going to say they feel fear. Of course not. They feel adrenaline, excitement, and energy. But at some point, they learned to just let go of the fear. They're fast not just because they have developed powerhouse quads. They're fast because they're not afraid to be. Without that mindset, none of those crazy drills they do in training to build speed matter.

I can't believe that I am drawing a lesson from football of all things, but this fear thing is sort of a big deal. And I'm pretty sick of it. That's why I have a mini-plan to let go of my own fear (it doesn't involve making touchdowns though—thank goodness).

 Time to Run . . . And Poke

"Imagine that the world had no middlemen, no publishers, no bosses, no HR folks, no one telling you what you couldn't do. If you lived in that world, what would you do? Go. Do that."

This passage is from Seth Godin's book, Poke the Box (that's the cover below). This little book is all about doing it. (No, not "doing it"—get your mind out of the gutter.) It's about testing with your effort. (The title comes from the phrase programmers use when programming: they try some code, and when it doesn't quite work, they try something else. They "poke the box.") It's about trying. It's about starting projects (instead of just talking about them). It's about failing, too. Because you have to fail at stuff to know what works. (We're talking marketing and creative work here—not, you know, trying a new technique for flying a plane, making a risky investment with your life savings, or winging birth control.)


Starting things, trying the unknown, testing when there's a really good chance it will fall flat: that all involves fear. I've never been afraid to write or afraid of my voice. But I have been afraid to do stuff related to my writing business that I don't really know how to do because I'm afraid someone will tell me that I'm doing it wrong.

But this is the year of rising above that! This is the year of poking the box! It doesn't mean it's the year of absolute success. It means it's the year of running toward the end zone and not caring if my lungs fall out.

Here are some of the things I'm going to try: a branding webinar in a few weeks, a virtual conference in the spring, two eBook projects where I'll be weaving together ideas that I don't completely understand yet, and a potential book collaboration with a company I great admire.

I know I will fail, at something. Definitely not everything. And probably nothing that's going to humiliate me. So, in the spirit of poking the box, I'm going to do a book giveaway. I bought a five-pack of Poke the Box; two I'm keeping for me (one for me personally to re-read and one to have on hand for when I come across a person who looks like they desperately need it). That leaves three, so I'm giving away all three. As long as you're in the U.S., I'll ship it right to you. (Oh, and even if you're not familiar with Godin, you'll love this book. It's the most approachable, inspiring, and smart manifesto I've read. And you can read in one sitting.)

I have three ways to win a copy of Poke the Box (you can enter all three to increase your chances):



Leave a comment on this blog post about what you are going to start this year/what you might fail at/what else you need to get motivated to just do it. I'll approve any blog comments that aren't spam.


Go the Facebook page and comment on the post you'll see there about poking the box.


Just "like" the Facebook page. I'll choose a random fan.



I'll choose the winner next Tuesday (January 17th). Forward this on to anyone you think needs some inspiration and push to start that project!

To sign up to receive this as a newsletter delivered via email (or to browse past articles), just click here.
Comments