He is. He knows what's in my head. I can't tell you how many times I've been wrestling with some issue, and then, precisely at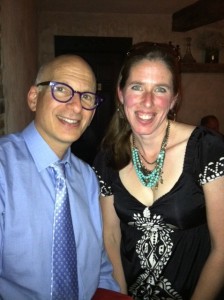 6:31 a.m. the next morning, his blog lays it out in 7 sentences, and suddenly I understand some aspect of it that I didn't quite get 30 seconds before.

But the best part of him being my brain stalker is that he knows where my brain is likely to go, even when I really don't. He knows that if I'm thinking something now, there's a good chance that soon, I'll be thinking about the thing that comes after that.

It's not happenstance.

And it's not that he really knows me (although, as evidenced by the lovely picture, we did meet at his event last week, which was very, very cool.) But I'm part of his tribe. He's earned my trust and loyalty. That means that we're now thinking about a lot of the same stuff. That's how brain stalking works.

Actually, I have lots of brain stalkers. A much less creepy way to say this is that I am extremely loyal to people and companies that get me. Brand loyalty isn't about a thing you covet. It's about the fact that someone gets you.

As in:



Donna Karan gets that jeans with a slightly curvier cut and some stretch will look fantastic on me.




Hal Higdon gets that even though I'm not an elite runner, I still want to do a marathon.




Jenny Hart of Sublime Stitching gets that I might like embroidery, even though I was born in 1974 instead of 1934.




Matthew Weinergets that I am mesmerized by a gorgeous 1960s set design.




Jenn, a fitness instructor at the Y, gets that I can do way more pushups, V-ups, lunges, squats and other forms of core training torture than I think I can, and that I will be very happy once I do it.




Coach gets that I love the feel of a substantial leather purse, with tiny and perfect hand-stitching. (They got me a little more when they were all made in the U.S., but nothing's perfect.)




The health conglomerate that manages my pediatrician's office gets that I never want to have to deal with their terrible phone system ever again, so they created something to let me do everything online.




Somebody somewhere (long before Starbucks) got that I wanted the caffeine and allure of coffee, but with a bunch of milk, flavoring, and yummy sweetness to cut the bitterness. (They also got that I would pay a stupid amount for the experience.)




Amy Butler gets that I think the Midwest is beautiful and cool, and I want to be inspired by it.




Trader Joe's gets that I don't really want to take food that seriously (but I still want it to taste really good).




Wordpress gets that I want a site that looks great and my designer can customize, but that I still need to manage it myself, with fairly lousy technical skills.




Abby, who does my hair, gets that I want cute hair, but there is no way I'm going to put a bunch of product in it or come in more than three times a year, so she needs to give me a low-maintenance hair cut that isn't dorky.




Chase Bank gets that if they screw up, I will respect them a lot more if they just admit it.



Feeling "gotten" just means that some need is met—and often, it's a need you don't know you have until you see the thing that fills it. (Apple isn't the only one who can do this.) Whether it's an author whose books you cherish, a fitness instructor you follow from time slot to time slot, or a multi-million dollar company releasing a new product, it's all loyalty. It's all about the wonderfulness of being gotten.

Anyone who sells anything should be in the brain stalking business.

So . . . are you a stalker? Whose brain are you stalking?

Want to sign up to receive these weekly posts via email? Look over to sidebar on the right! Get the first chapters of my ebook when you sign up there. Or, browse past articles and sign up right here.