No need burying the lead on this one: We got a cat a few weeks ago!
Isn't she adorable?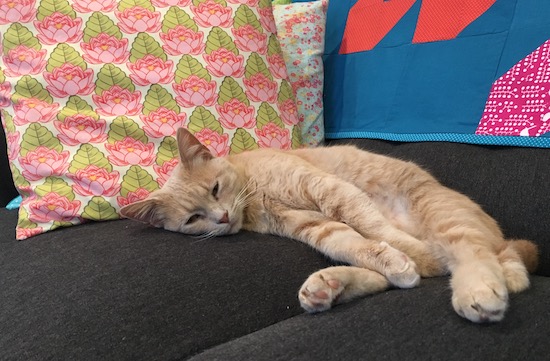 Her name is Madeira, which also happens to be the name of the little town where I live. This is not a coincidence. This might be the reason we have her at all.
Before I tell you about her, let me tell you about my first cat, Seattle. I got him as a kitten in 1999, when I was 25 years old. He was very talkative (he was part Siamese), and I chose the name because his grey and white coloring reminded me of how I had heard Seattle weather described. There was something else, too. I had never been to Seattle—or been much of anywhere, truthfully—but the thought of being able to travel and have new experiences was intensely exciting to me. His name represented the next stage in my life.
Sure enough, two years later, when I finally had a little bit of disposable income, I visited his namesake city. I loved it. Since I was in an on-again, off-again relationship (I was in a lot of those in my twenties), I decided to go to Seattle by myself. This is when I discovered the pure joy of traveling alone. A few years after that, I went to the Grand Canyon by myself. The next year, it was New York City. I traveled with friends, family members, and boyfriends too, but traveling alone was magical.
At 33, I got married and had kids, and that basically stopped (though I do carve out time each October to travel alone to a writer's colony in Arkansas for 10 days).
Seattle died in 2016, and my husband, who never liked him (too much meowing) said, "No more cats." I said something like, "Okay, sure," knowing there was no way I was going to live cat-less forever (he assured me I would live longer than him, and told me to take comfort in the idea that I could get a cat when I was a widow). Anyway, my husband is a person who just needs to be handled a bit. I knew he would come around. And when he saw me obsessing over a "cat needs home" post on Facebook a few weeks ago, he realized it might be time for him to come around and stop talking about my widowhood.
I don't know what it was about this cat. She was cute, but they're all cute. I kept saying it was her sweet little face that drew me in . . . and it was. But it was also her story. She was about a year old, and had most likely been someone's pet (because she was spayed). But she had either been dumped or was hopelessly lost, because for weeks, she was wondering around in a Madeira neighborhood a mile or so from where I live. The neighbors took turns feeding her and tried everything they could to find her owners. This went on for a month or so, until a woman who fosters cats took her in. Several months later, a post about her made its way to me (someone reposted it to a neighborhood group I follow). Her name was Madeira, the post said. To be honest, I didn't even connect that she was named for a city and my first cat was named for a city. But her face! The pink nose and dainty whiskers! She got me.
After a few days of contemplating, I adopted Madeira on November 17, the nine-year-anniversary of the death of my brother, Paul. My sister, Laura, went with me to go pick up Madeira. I really wanted it to be significant that I was adopting Madeira on this particular day. "Except, well, Paul didn't really like cats at all," Laura said as we drove home with Madeira safely tucked away in her cat carrier in the back seat. "Right," I said, chewing on my lip.
I'm a person who really relies on metaphors. Like I'm a nut for them. If it wasn't Paul and some lesson about letting a new spirit into your life, what was it?
Later that day, I thought about Seattle, about how I was so young when I got him, and about how he represented all the wandering I hadn't yet done, but would come to cherish. Then I thought about Madeira's story, about how she was wandering around, looking for a home. These past few years, I've been doing so much wandering of my own, but of the emotional kind. It's only recently that I really feel I'm home, and I'm content in my decisions.
I didn't name this cat. I didn't even search for her. But she found me, right here in Madeira, and we are home.
PS. I've caught my husband petting Madeira, talking to her like a baby, and looking up reviews on which scratching posts are best and how much to feed a one-year-old, eight-pound cat. #spousehandling
PSS. Have you watched my NEW video yet about why it's FUN to work with a writer? Watch it now!