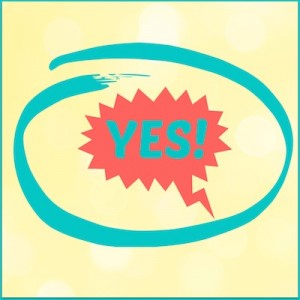 Sandwiched right between I hate long lines and I like pretty dresses too much, there it is: I'm constantly driven to say "yes"'Äì in large part because of money.

My conservative friends may tease me and name call in fun (well, mostly in fun . . . I think), but the truth is, I'm a capitalist at heart and there is absolutely no way around it. I own a business and it's how my kids eat. So while I love the idea of spreading the wealth around, in the end, it's me, saying yes, over and over again—both because I love it and because it means people will keep paying me.

Can you help me? Yes!

Can you get on the phone with me at 10:00 at night to talk about this project? Yes!

Can you rework this for the 8th time, with very little direction and the knowledge that you will most likely have to rework it again? Yes!

Can you make something out of this pile of nothing? Yes!

Can you solve this pack of problems for us? Yes, yes, yes!

Let me be clear: I'm not making myself out to be a victim, forced to say yes. It's always a choice, and I'm blessed to have these opportunities to say yes.

Actually, what I'm really blessed with is the chance to say: "What's it worth to you?" (Because the wrong answer can still elicit a "no.")

In the same breath I say this, I will also say: the money will never be enough. There has to be something more. The people have to be interesting, or the work has to be interesting (preferably, both) for me to keep saying yes.

So, for the purposes of this newsletter, and me getting to the point: let's assume everything is interesting and the money is right.

There is still an issue with saying yes over and over again.

It will make you insane.

I've Been Told There is an And


I was having a conversation on the phone with my sister last Wednesday evening at the playground. As I was watching my kids attack life via the jungle gym, I was telling her about the crazy week I'd just had, working 16+ hour days, with yes-saying all over the place. "Listen, the people who get to the top are crazy. They're not wired like the rest of us," she said.

I responded with my usual: you can't make generalizations like that.

And then I hung up and thought: she's probably right.

But how am I wired? Am I crazy? What about these kids of mine? How are they wired? Do we have to either be crazy (i.e. yes-obsessed) or sane (i.e. firm boundaries)? Can you be committed to excellence and yes-ness all of the time, and not be a cranky, tired person the minute you walk through the door of your house and the rest of life hits you? Can you be fully present everywhere? Can you command top dollar for your feats of amazingness, and then leave that behind when you sit down to eat dinner with your family and have a normal conversation about installing chimney caps and filling out school immunization forms and planning birthday surprises?

My friend Kate talks about the power of and. As in, "and" instead of "or." I love this. So I believe there is a way to be a vehicle of yes, committed to making the nearly-impossible happen for your clients, without losing your mind every other week. Yes . . . AND I will keep my sanity.

But I struggle with that balance. And not because I'm a superwoman mom. The superwoman myth can go blow it. No, I struggle with the balance because I'm a person who wants to make great things happen for people.

So, to my fellow non-socialist, excellence-seeking, yes-sayers who want to solve the problems and make it all happen . . . do you know where the "and" is? Have you found it? What does it look like? Did you recognize it when you saw it? Can you share with me?

Please say yes.
Comments
Posted by Mary on 08/06/14 1:51pm