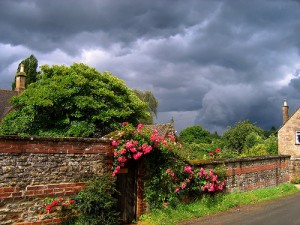 I have two things to tell you about editing, and the first one I learned from my rose bushes. They are rambling fairy roses and although I love my garden something crazy, I don't love these roses (we inherited them with the house—of which this is not a picture, unfortunately).

I'll get back to the two things and the roses, but first I want to say that I'm basically writing this newsletter for all of the people who say: "I am not a good writer. I can't write."

Sometimes they are right. I've seen some of their sentences. And sometimes, it's best to just know your strengths and let go of the crap you don't like and don't have the inclination to be good at. It's like me drawing a human face (or an animal face, for that matter). I just don't do it well. And I don't care.

That said, consider this: your problem may not be writing. It may be re-reading.

But, as usual, I'm getting ahead of myself.

But It's Got So Much Potential!


Back to the roses. They are pink and glorious and full of cheer. For about a month. And the rest of the time, they are unattractive, gangly, and just downright mean with their thorniness. And they are perpetually in the way of the driveway. (Opening a car door into thorns sucks.)

I get to a point every spring where my hatred bubbles up. I see that they are, once again, overgrown and encroaching on my life. Probably because I didn't prune when I was supposed to (or didn't prune properly—irony of ironies, too much cutting only makes them grow more). So I get out the clippers and suit up with gloves. But then I see all of those tiny buds. All of that potential, waiting to burst into pink. I just can't do it—not yet. I can't be that ruthless. I have to see the blooms through. And then come July, I will hack them something crazy.

I take the same approach with my writing—sort of. Except sometimes I am that ruthless. I won't usually squash ideas before I see what they are. But I can't let them all bloom.

When you've got a piece you have to write, whether it's your bio, your home page, a speech, or a Facebook post: you can't follow every thought. You have to practice some tough love. It can mean lopping off phrases you want so badly to work, but won't. Striking tangents and side stories that you want to fit in, but don't. And losing pieces of the argument that you originally thought were key, but now you see aren't.

Writing clearly and staying focused means letting go of "potential." Potential is such a big word in our culture. People tell us they want to help us "live up to our potential." We say of people: she's got so much potential! Houses have potential, too. So do gardens (even ones with overgrown fairy roses) and flea market finds and boyfriends.

Focusing on the potential of every thought you have will kill you. Or, more specifically, kill your writing.

My advice? Go ahead and write it. Don't stop yourself when you've just started. Go for it. Get it all down. See what the shape of the bloom might look like. And then be ready to revisit it, and hack it off.

Which brings me to the second thing. We use the word "writing" to encompass a whole series of activities, such as thinking, outlining, and putting sentences on paper. And then re-reading them. Over and over again. This re-reading is the part that gets people.

Writing isn't just spitting out words. You have to take them back in again. And I'm convinced that "hearing" your words uses a different system than "writing" your words. Activating that hearing system: that's where people so often fall down. They lose just steam, and struggle to stay with it. Instead of "I'm not good at writing," what they are really saying is: "I'm not good at staying with it."

It's a bit like the struggle to maintain your weight loss after you've lost the weight. It's all related to the same goal (being healthy), but it's a whole different ball game. Writing and re-reading are related to the same goal too—having a polished piece of writing. But the re-reading game is a lot more open-ended. And a lot more quiet. So my advice here? Don't forget to listen.

So, yes: you need to understand the flow of words and sentences to write well. But you also need pruners, ears, and patience. Lots of patience.

Keep writing!

(Photo credit is here, via http://compfight.com/ )
Comments
Posted by L.A. Shutrump on 06/26/13 2:47pm

Posted by Judi Ketteler on 06/26/13 3:05pm

Posted by Carolyn on 06/26/13 4:12pm

Posted by Judi Ketteler on 06/27/13 12:21pm