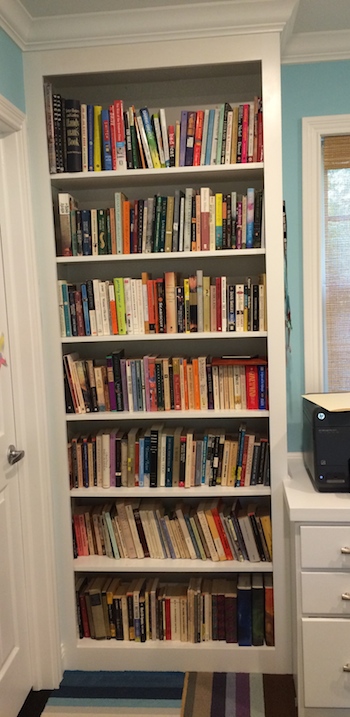 Other girls spent their teen years and young twenties fantasizing about their wedding day.

I fantasized about my future bookshelves, which would be floor-to-ceiling and wrap gracefully from room to room.

I grew up in a house with overflowing bookshelves and dinner table discussions of books. One of my parents was always reading a biography or a spy novel.

Books were magic to me from the start, but college is where I bloomed. As an English major, I spent a good portion of my time reading. I lived at home while I went to school, inheriting some of the old, smaller bookshelves for my bedroom as my dad built sturdier ones for the living room. That was when my book collection started in earnest. I wasn't just building a library. I was a build a self. A notion of who I was and what I cared about. Sure, I tried to express myself in clothing (the grunge of early 1990s,) but that was about mimicking. My books seemed the only solid expression of the real me.

To earn extra money in college, I started babysitting for an English professor. She and her husband were both young, hip professors in the department. I idolized everything about their house, particularly their wall-to-wall bookshelves. After putting their two little boys to bed, I would walk the perimeter of their book-lined rooms, touching the spines, taking in the names, imagining myself sitting around a graduate school table, tossing off phrases about Virginia Woolf. I didn't just want their books. I wanted their lives, and all that I thought went along with it.

I read everything in those years, but I grew my collection mostly in the direction of contemporary female novelists. I went to Half Price Books every few weeks and bought cheap, dog-eared copies of books by authors like Toni Morrison, Margaret Atwood, Isabelle Allende, Louise Erdrich, Amy Tan, and Margaret Drabble. By the time I was finished with graduate school, my collection required several bookcases. I chose my first grown-up apartment based on the fact that it had an ideal wall (a long, narrow one, just opposite the front door) to fit my bookcases.

My books represented everything I knew of life up until then—which, looking back, doesn't seem like it could have been that much. I was only 24. Voice and nuance and story and love and politics: I was only beginning to experience them in life, but I knew them like old friends in the pages of those books. Even though I had left academia (it turned out that teaching wasn't for me), in the years that followed, I kept reading, kept adding: everything from Harry Potter and Bridget Jones to Richard Russo and Curtis Sittenfeld.

When my husband and I bought our first house, we filled half a moving truck with our combined boxes of books. Fellow English majors, we had met because of a book. He used the screen name AngelClare34 on Match.com, and I only paused to look at his profile, and then email him, because I recognized Angel Clare as a character from Thomas Hardy's Tess of the D'Urbervilles.

The house we chose in a charming older neighborhood was purposefully small: a 1,200 square foot, 1940s Cape Cod. We would combat urban sprawl with modest living among streets lined with old-growth trees. Everybody else was going for space. We would go for character!

I had always assumed my book collection would be as important in my first home as it had been in my first apartment. But as we settled in, we decided to have a living room that was simple and clutter free, opting for Charley Harper prints and clean-lined furniture instead of my rag-tag, hand-me-down bookcases, or his shelving solution of cinder blocks and two-by-fours. (That kind of character didn't make the cut.) My book collection found its home in the TV room.

Then we had a baby.

And another.

The TV room became the kids' room. I packed up the majority of my books in boxes once again and took them down to the sad, dark basement—always promising them I'd return.

They stayed there for nearly a decade.

It wasn't until we built a home addition this summer (blog post about that coming soon!) that I finally had room for my books again. I wanted an entire wall of bookshelves . . . but I wanted a lot of things, so I had to settle for half a wall. But at least the built-in bookcase is floor-to-ceiling! (See above!)

I unearthed my books again earlier this month, sneezing like crazy from dust as I unpacked the familiar names. Bobbie Ann Mason and Dorothy Allison! Jane Smiley and Henry Louis Gates! Virginia Woolf (a whole row for you) and Jane Austen! How could I have put you in a box? I'm so sorry! Hello hello hello! How have you all been?

I spent an entire evening laying them out on the floor and gleefully organizing them into genres. Then I stacked them, one by one, in their new home.

My books!

I've been reflecting on why it feels so good to have my books on shelves again. It's not really about reading. After all, I'm still every bit the avid reader I was in college, I just tend buy eBooks now.

It must be what everything else is about at this point in my life: middle age. Have I lived up to who I thought I would be? To what I thought I believed in? To the life I thought I wanted?

Those are the questions that come for all of us, in different forms. Some people see it when they look at their children, or their career, or their circle of friends.

For me, probably because I'm a weirdo, these queries are tied to my books.

I still think about my professor's house, and the feeling of my hand on those spines. That literary life I wanted. But what if, with or without the bookshelves to validate my identity, I actually have it? After all, I'm a writer. I'm a reader. Our children seem to be readers. The great majority of my friends are writers and/or readers. And interestingly, all these years later, that same professor has become a good friend of mine. We have cocktails and talk about relationships. A few years back, she divorced that professor husband. He turned out to be a nut.

What if that life I adored was never what I thought it was . . . and instead, is exactly what I have now?

What would my 20-year-old self say about packing her away in boxes for so long in the basement? What would she say about this life I have now?

I think after she sighed and rolled her eyes at me, she would simply say: Thanks for not letting me go.
Comments
Posted by Danielle on 09/14/16 4:08pm

Posted by Judi Ketteler on 09/14/16 4:33pm

Posted by Jennifer Fink on 09/14/16 4:48pm

Posted by Judi Ketteler on 09/14/16 4:53pm

Posted by Christine Parker on 09/14/16 6:28pm

Posted by Judi Ketteler on 09/14/16 6:52pm