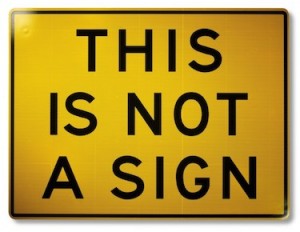 All I can do after this crazy weekend is reflect on the nature of signs. Baked into human intelligence is our reliance on signs to tell us, you know, everything: the weather, if someone loves us, if a car is about to turn right, if a terrorist attack might take place.

So why do we often miss the so-obvious signs and regularly get other ones completely wrong?

The first part of this story is awesome and fun. The second part will either make you laugh or determine that my family is psycho.

The Surprising and the Screaming

A few weeks ago, my sisters Laura and Nancy told me they wanted to take me out the weekend after my 40th birthday for a girls' night. I knew my husband was planning a surprise for my actual birthday weekend (he told me to keep the night free, but wouldn't give me any details), so I didn't think much about what the girls' night would be. You probably already know where this is going, don't you? That's because I've given you a sign to pay attention.

I did not have that sign.

Anyway, on my birthday weekend, my husband surprised me with a stay at a swank downtown Cincinnati hotel and dinner at my favorite swank restaurant, while my sister kept the kids. It was lovely.

The following weekend, my sister wouldn't tell me where we were going because she wanted it to be fun and mysterious. She just told me it involved wine and food (some of my favorite things). She told me my 25-year-old niece, Rachel, was planning the second half of the evening, to which I said: "Oh please, no strippers." No one would confirm or deny anything.

They came to get me on Saturday around 5:00 and off we went.

Three hours later, I walked into my sister Laura's house with everyone yelling "surprise."

I never once saw it coming.

Of course, it was all so clear looking back: Laura had barely talked to me for like two weeks before. My husband was acting totally weird the day of the party, telling me elaborate stories about having to go help a friend with a bathroom sink (he was getting the cake), and why he was shaving at 4:00 in the afternoon. I had met a friend for drinks earlier that week, and she abruptly changed the topic when I mentioned my birthday. And then there was the fact that we had to go back to my sister's house after dinner because her husband was going to be the designated driver for the evening, and her complicated story about why and that he owed her since for years, he got to drink while she drove 'Äì it all distracted me from asking questions about how we would all fit in one car anyway, how everyone else was going to get home at the end of the evening, and why he kept calling my sister to see when we would be there. There are more signs, but you get the picture.

And I should say: I ask questions about everything. Everything. I am probably the most curious person in the world.

But I wasn't tuned in to even the possibility of a surprise party. So all of it slipped right by me. Obvious signs, looking back.

The party was awesome. The only weird thing is that my brother, Tony, didn't show up.

And that leads to the second part of this story.

You are wondering how I still have more siblings to write about, I know. But yes, there are more.

Tony is a few years older than me, and a bit of a loner (not like serial killer loner, more like: Hey, I'm totally normal, but you all talk way too much and I probably couldn't get a word in anyway, so I'm just going to sit here quietly and chill.)

But . . . if he says he is going to do something, he does it. Always. He got that from my dad. So it was weird that he said he was coming to the party, and then didn't.

Really weird. It's important that you understand this sign as we understood it.

He is also a bad communicator. He only got a cell phone a few years ago, and it is the dumbest phone ever. He rarely texts. His voice mail isn't even set up. He will probably feel the need to move to another country now that I am writing about him.

Anyway, we thought it was weird Saturday night, but we were distracted by cake and didn't dwell.

But by Sunday afternoon, no one could get in touch with him. Around 3:00, my sister, mom, and I were sitting at my mom's kitchen table, talking about how weird it was that Tony didn't show. We tried to call him a bunch of times. No answer.

Suddenly, the signs were freaking us out. Every single story of a missing person or a person dead in their house starts the same way: they didn't show up somewhere they were expected.

So we drove to his house (only a few miles away). Both cars were in the garage (we peeked in). The house was locked. We rang the bell and pounded on the window. No answer. The neighbor said he hadn't seen him since Friday.

We started panicking for real.

Now, to understand what happened next, you need to know that five years ago, we lost a brother at 49. Unexpectedly. His wife came home from work and found him. My parents were out of town and she couldn't get in touch with them. For whatever reason, she didn't have our numbers. The day was a mess of confusion 'Äì messages not getting through, us calling around trying to confirm things. And then, a few weeks ago, that brother's first wife died at 54. Also at home. Found by her son (my nephew).

There have been a lot of unexpected phone calls with sad news to deliver made in my family over the past few years. So yeah, we're on the lookout for signs.

Which is why . . . we went to the police. Who understood our concern (after all, their life is about signs). They told us to wait at the station. They went to his house and banged on his door. And actually called an ambulance.

We were standing there, waiting to hear something, completely freaked out, thinking the worst (because of the signs), when Tony called my sister.

Naturally. Because there was a cop at his door and an ambulance at his house.

He had been sleeping. With earplugs. Probably because he has a secret life where he goes to all-night parties or something.

Anyway, after he calmed down from the screaming, he understood our concern. Mostly.

And the cop applauded our concern, saying he hoped my brother knew how much his family must care about him.

So yes, we totally jumped the gun.

But the signs.

How did we read them so wrong?

Listen, my life is plotted in signs: I remember the exact moments I came to realize big, important stuff and I love nothing more than viewing it all through the lens of magic signs.

Past tense sign-making is basically a fun game of connect-the-dots.

But the problem with signs in the present tense is that it's always us supplying the significance of them, based on what's in our head at that moment. And what's in our head right then is often a world away from reality.

I think we have to accept that complete misinterpretation is just a side effect of meaning-making. Sometimes you wind up with a brother screaming at you. But the cool thing is, there is some other meaning wrapped inside that misinterpretation. You might have to wait until the past tense to see it though.

And as for missing the signs? In the case of a surprise party, you're supposed to. It just means you're loved. And naïve in the best possible way.

(Thanks to artist and writer Alan James for letting me use his cool work of art above.)
Comments
Posted by Chris on 09/25/14 2:19pm

Posted by Judi Ketteler on 09/25/14 3:24pm