The first person I gave a copy of Would I Lie to You? The Amazing Power of Being Honest in a World That Lies to was my 84-year-old very spry mom. Isn't she the most adorable thing you've ever seen?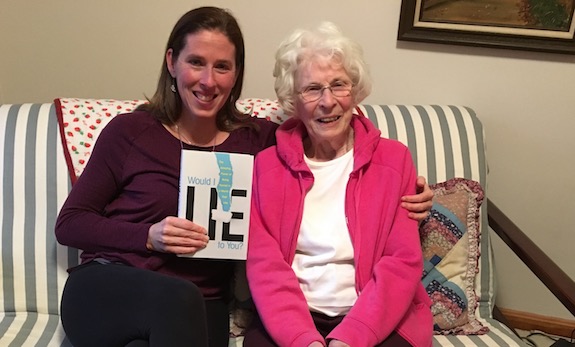 I wasn't exactly nervous, because we have a good relationship and I only had positive, heartfelt things to say about her in the book. Still, when she told me she loved it, I felt such an immense sense of relief.
In my heart, I'm still an 8-year-old girl who wants her mom to love the picture she drew for her! Because my mom is an exceptionally good mom, she always did love the picture. In fact, she did all the things a parent is supposed to do, and made sure that I understood not just that I was loved, but that the only person's approval that mattered was my own.
But I love that she loves my book!
Naturally, I want everyone to love it! The reviews so far have been encouraging (Library Journal says, "Great for generating discussion on the subject of authenticity and thinking through tough questions"), but let me tell you what really matters right now in this publishing game: PRE-ORDERS!
Pre-ordering a book lets the publisher (and the booksellers) know that you care about the book. It creates a demand for the book, and in the weeks leading up to the release of the book—mine releases December 31—that is becoming more and more important.
While I'm not a first-time author (I have two other books, both about sewing), I am a first-time author in the psychology/big think/personal growth category. I have to prove to the world that I belong there, and the best way to show that right now is a bunch of pre-orders!
Also, if I want the book to have any chance of making a bestseller list—which of course every author everywhere wants, despite any humbleness they may try to pretend they have—pre-orders matter!
So . . . buy it for yourself, buy it as a New Year's gift, tell your book club to read it, or ask your library to carry it (that matters as much as a pre-order, by the way).
You can follow these links to order, even if you want to order it from your local bookstore (that's the IndieBound option). The audio version is also available at Amazon.
Pre-order through Barnes & Noble
Thanks to everyone who has been on this journey with me! And thank you, deeply, for your pre-orders!