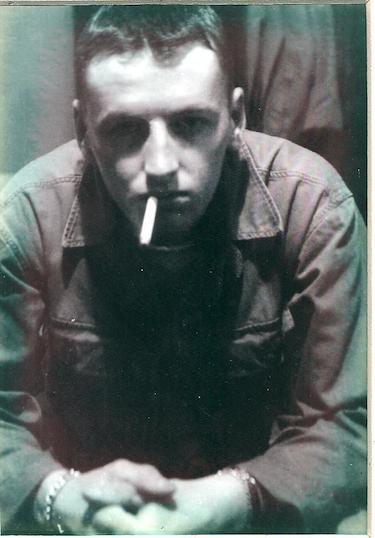 Dear Dad,

Man, you look handsome and bad-ass in this picture. (Note to impressionable teens: this was 1952 and the tobacco companies were deceiving everyone about smoking: go watch The Insider.) Anyway, you smoked your cigarettes and made your self-portraits and you went where the Army sent you. They drafted you for Korea, but they sent you to Germany instead. You didn't mind that at all.

I think about your fortune and misfortune a lot. Writer Malcolm Gladwell says yours was the charmed generation—just after The Great Generation (the generation of struggle) but before The Baby Boomers (the generation of competing for resources). You took whatever luck came your way, that's for sure. All those other GIs in Germany spent their free time getting drunk and finding prostitutes. You went sightseeing and took hundreds of pictures.

But it didn't start out so great for you. You were fatherless at 11 because antihypertensives hadn't yet been invented. I like to think that's why you went into the pharmaceutical industry. (Not that you would have ever said anything as sentimental as that). But your mother, there she was, widowed and extremely pregnant, with you and Aunt Sally looking up at her with sad eyes. Everyone told her to put you two in an orphanage. She nodded, smiled, and said the equivalent of "screw you" in her head to all of them. She must have been the one who taught you how to do that. And then you taught me.

Dad, this week. Where do I start? I mean, there are TVs up there, right? So you probably know. If you hated Ronald Reagan, I really wonder what you'd think about this. If Reagan's car broke down in front of our house and no other neighbors were around and all he wanted was to use the phone, you wouldn't let him in. That's what you used to say! Of course, you would have though. The two of you would have had a beer and talked about Churchill and Eisenhower and Truman and Johnson and Nixon, since you read every biography of boy leaders ever written. (Don't worry, I came to peace long ago with the fact that you never embraced feminism. You were good to every woman in your life, and you told your daughters to do their own thing, especially if it was a thing lots of people said they couldn't do. That more than suffices.) Anyway, here we are and I'll tell you what Dad, I am scared. And I wonder what dumb little saying you might have, the way you used to say "It's only money" and then snap your fingers and smile and take a drink of your Old Milwaukee. I think you might say something like, "Just move forward." That's what I'm going to do. That, and keep love in my heart. Some of my fellow crushed souls are spewing some hate and lashing out with judgment because they are so mad and afraid. That's a little bit how we got here to begin with, and we can do better. All of us.

Some people spend their lives trying to live up to their parents' expectations, and I'm glad you and Mom never went for that. Losing Paul—7 years ago Thursday, can you believe it?—was one of the hardest things you and Mom had to deal with. I know you guys worried that you failed. I hope you know you didn't. People are who they are. That's what you always said. I know you'd like who I became. I didn't officially lose you until I was 38, but in truth, I lost you before I was even 30. Don't think I don't see the irony that the same fucking disease stole both you and Ronald Reagan. I like to picture the two of you taking a break from arguing about deregulation to cast pixie dust down on some boy or girl in seventh grade science who is going to be the one to come up with something better than Aricept and Namenda.

I love to wear your dog tags, and you better believe I'll be wearing them today. The reason I wear them isn't just to remember you—I don't need an object for that. I wear them because they remind me that one day, you got a letter from the government that said you had to go in the Army. You didn't want to. You most certainly didn't believe in the Korean War. But you went. You were scared, I know you were. But you got through it and you didn't blame people or lash out or complain or anything. You just did it. You got lucky, and then you made good use of that luck.

You could have been a little less cranky (particularly in the car, when we were all giggling), but you were a great dad and husband and citizen. You served your country and you served us. While I have no plans to go in the Army, I do hope I can serve wherever I'm called. Thanks for giving that to me.

Love,

Judi, the baby (who is NOT spoiled)

#WriteALetterToAVeteran

PS. Share this if you want. Or go write your own.
Comments
Posted by Shel Horowitz on 11/11/16 9:11pm

Posted by Judi Ketteler on 11/14/16 11:16pm