Hello to anyone who is new! After publishing this piece over the weekend on NBCNews.com about how I yelled at a nun in front of a church, a lot of people were like, Who is this Judi Ketteler person? Should I know more about her? For those of you who decided that maybe you would like to hear a bit more from me, thank you. And BIG thanks to all of you who bought my book about honesty!
It's the time of year for book roundups, so I wanted to do my own take on one. These aren't all new books. In fact, one was written in 1947. But they are all books that were new to me in 2020.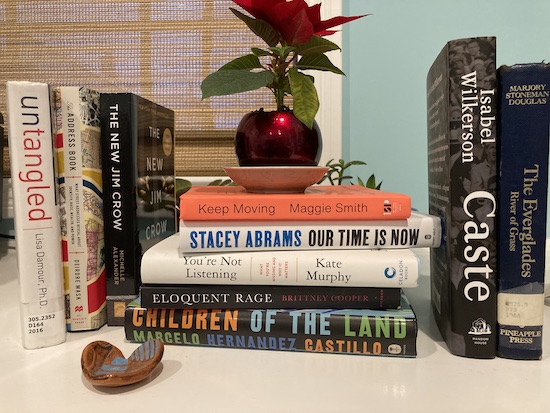 I'm including links to buy at Amazon and IndieBound, if you are so inclined and want to give any of them as gifts (note that these are affiliate links). I know you might be thinking, Ah, wait a minute, don't all "real" book people like hate Amazon now? I actually don't hate Amazon. I buy A LOT of books from independent booksellers because I believe in supporting these retailers. But I still buy from Amazon, because I want to support authors too, and the reality is, when you're on a book budget, you have to make tradeoffs.
Also this: lots of people talk about how they detest Amazon, but I don't necessarily believe they actually avoid it. I decided a while back to just be honest about this fact. And of course, I get a lot of books from the library—plenty of these favorites were library books. (The ones I do buy, I usually put in my Little Free Library when I'm finished reading.)
So, my list of favorite books for 2020 . . .
Favorite quirky non-fiction book:
THE ADDRESS BOOK: WHAT STREET ADDRESSES REVEAL ABOUT IDENTITY, RACE, WEALTH, AND POWER, Deirdre Mask
It's about street addresses. And if you think, "Uh, how is that a book?" just give it a read, because it's fascinating.
Favorite quirky novel:
THE AUTHENTICITY PROJECT, by Clare Pooley
When one person decides to write their honest feelings in a little book and leave it for someone else to do the same, it starts a chain reaction. I'm drawn to stories where honesty is a big part of the plot, so I really loved this.
Favorite political non-fiction book:
OUR TIME IS NOW: POWER, PURPOSE AND THE FIGHT FOR A FAIR AMERICA, by Stacey Abrams
I thought I knew about voter suppression, but I had NO IDEA the extent to which Republican state legislatures have purposefully made it harder for young people, poor people, and people of color to vote since the 2013 Supreme Court decision Shelby County v. Holder. This ruling removed federal oversight of states' ability changing how voting works. Basically, it gutted the Voting Rights Act of 1965. Also, Stacey Abrams is a FORCE.
Favorite novel by a debut novelist:
SUCH A FUN AGE, by Kiley Reid
It's funny. It's maddening. It's awkward. It tackles racism and do-gooder white women while offering a poignant look at one young woman's challenge to figure out what she wants to do in life.
Favorite novel in all categories:
THE VANISHING HALF, by Britt Bennet
I devoured this book. It tells the story of Stella and Desiree Vignes, twin sisters from a small town in Louisiana that is reserved for Black residents with light skin. They run away together to New Orleans when they are teenagers. Once there, Stella realizes that she can pass as white. Their lives take very different paths after that.
Favorite political novel:
RODHAM, by Curtis Sittenfeld
What if Hillary Rodham never married Bill Clinton? Bam, that's the plot of Rodham. No one does this kind of thing better than Sittenfeld (she also wrote American Wife, a fictionalized story about Laura Bush).
Favorite inspirational book:
KEEP MOVING, by Maggie Smith
This is a book you need to hold in your hands, because it's so beautifully designed. It's a collection of mini essays and missives from Maggie Smith, the poet who gave us the poem "Good Bones." It tracks her journey through a difficult divorce. I actually got to interview her when I wrote about the book, and she is every bit as lovely as you would think she'd be.
Favorite historical novel:
THE BOOK OF LONGINGS, by Sue Monk Kidd
I kind of have a thing for reading revisions of stories. This novel takes us back to the time of Jesus, and tells the story of his wife. Since women have always been marginalized within Christianity, it's a powerful look at what may have been different if their voices had been heard and their stories told.
Favorite YA novel:
THE HATE U GIVE, by Angie Thomas
This novel opens with a tragically familiar scene: a police shooting of an unarmed young Black man. A teenage Black girl is caught up in it, and she has to deal with the trauma of being there when it happened. It's a coming of age story, and so much more.
Favorite literary non-fiction:
THREE WOMEN, by Lisa Taddeo
This book is about the sex lives of three ordinary women. It's absorbing like a novel, but it's actually three long reported pieces. I don't even know how Lisa Taddeo did it. It's unlike anything I've read before.
Favorite memoir:
THE SMALLEST LIGHTS IN THE UNIVERSE, by Sara Seager
Sara Seager is a brilliant MIT astrophysicist. Her day job is searching for exoplanets (planets outside our solar system). She is one hell of a writer too, and this memoir tells the story of how she came to be a planet hunter, and how she fell in love, had children, was widowed young, and fell in love again. It's ridiculously readable. You will feel like you understand astrophysics! And you will be inside her head and her heart in the most poignant of ways. I got the chance to interview her for a Boston Globe piece I wrote and I absolutely adore her.
Favorite dystopian novel:
THE AGE OF MIRACLES, by Karen Thompson Walker
I had to read at least one thing that felt relevant in the year of coronavirus and the way it altered the fabric of everyday life. This coming of age story begins on the day that the earth's rotation starts slowing down. It gets weirder from there. I liked it, but was also glad to finish it and read something not dystopian, since it felt like we were already living in a dystopia.
Favorite time-travel novel:
OONA OUT OF ORDER, by Margarita Montimore
This novel is charming and weird, and a little bit like The Time Traveler's Wife, but it centers all on Oona. Beginning at age 19, in 1982, she wakes up in a different year of her life, every year at midnight on December 31. As the title suggests, she lives out of order. It's mind-bending and fun, and there are lots of great music references.
Favorite parenting book:
UNTANGLED: GUIDING TEENAGE GIRLS THROUGH THE SEVEN TRANSITIONS INTO ADULTHOOD, by Lisa Damour, PhD
This one has been immensely helpful to read, even though my daughter is just 10. The title says "teenage" girls, but honestly, it's very applicable to pre-teen girls. I now understand things like why my daughter is simultaneously clinging to me and pushing me away. If you're struggling to understand the mind and decisions of your tween/teen daughter, read it.
Favorite environmental book:
THE EVERGLADES: RIVER OF GRASS, by Marjory Stoneman Douglas (originally published in 1947)
So I didn't know who Marjory Stoneman Douglas was; I only knew the tragedy that happened at the school that bore her name. Turns out, she was a journalist and author. I found this out when my husband and I watched a PBS documentary about the Everglades. It kept quoting her writing, and I knew I needed to see this unbelievable language in front of me. I got the book out of the library several weeks ago, and I just pick it up here and there to read passages. Every sentence is gorgeous: "The water of the bays was clear, tinted by the light shimmering in water over sand reefs, and sea gardens, and acres of clean green weed." It may be my Christmas present to myself to buy it.
And these are all still on my list to read! I'm not sure I'll finish all by the end of the year, but I can't wait to try.
Eloquent Rage: A Black Feminist Discovers Her Superpower, by Brittney Cooper, which has me at the first line, "This is a book by a grown-ass woman written for other grown-ass women."
Caste: The Origins of Our Discontents, by Isabel Wilkerson. I just grabbed this one the other day after hearing so much about it. It's about how we experience the caste system in everyday life.
The New Jim Crow: Mass Incarceration in the Age of Colorblindness, by Michelle Alexander. As I've been researching the racism and long-lasting and disastrous impacts of cash bail, I've realized the justice system is an area I need to learn more about
The Chicken Sisters, a brand-new novel by my colleague KJ Dell'Antonia, about sisters and restaurants and feuds. It landed on my Kindle from a pre-order months ago and I can't wait to read!
Children of the Land, by Marcelo Hernandez Castillo, a memoir about growing up undocumented in the U.S. that a friend recommended as an alternative to American Dirt.
You're Not Listening: What You're Missing and Why it Matters, by Kate Murphy. I've read a bunch of her articles and each one has provided me with an "aha" moment. I expect the same of the book!
I hope you get the chance to sit with a book or 12 this winter.