Yeah, I'm stealing from my pal, Thoreau, who went to the woods because he wished to live deliberately. But the dude was onto something with the idea of getting away from it all.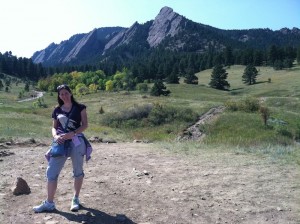 That why I trekked out to Colorado a few weeks ago to spend a day with my business coach, the fantastic Darla LeDoux. We sat in a lovely building in downtown Denver, and mapped out a bunch of exciting things for me. After our day was over, I headed back to my B&B in Boulder with notes, ideas, to-do lists, and the beginning of a vision. I was ready to take action.

Until I woke up the next day in a panic.

At breakfast, I felt drained, like I was just going through the motions with the yogurt and the talking. There wasn't enough coffee in the world to lift me from the exhaustion I suddenly felt. And there wouldn't be enough time in the world to do everything I had mapped out the day before.

It's not that I was afraid of failing. It's that I was afraid of not doing: now that I had these ideas, what if I didn't do them? Did I really have the energy? The time? On top of that, I missed my kids something fiercely. I mean, I enjoy and appreciate time away from them. A lot. I'm hardly a hovering mother. I just suddenly missed their energy.

But there I was in Boulder, Colorado, with the backdrop of the Flatiron Mountains.

Ah, I just need to be inspired by the mountains, I thought. I need to stare at scenery that puts my life in perspective.

So I hopped in my rental car, drove the few miles to gorgeous Chautauqua Park and starting hiking the mountainside trails. Come on, mountains, lift my mood, I thought. Help me figure out how I'm going to live deep and suck out the marrow of life without crashing and burning.

The mountains were beautiful. I mean, of course. But what I wanted was the uplift. So I walked. And I waited. And I tried to pretend that I felt it.

But I didn't.

So I sat on a rock.

It was a busy Saturday morning at Chautauqua: hundreds of people and families and friends and dogs were milling around on the mountainside trails.

They were all talking as they walked by, animated, engaged, and connected in their own conversations. I sat there on my rock, listening to the snippets of conversations, and realizing that I had actually been listening the entire time I was walking. And I thought about what I was hearing:



A young boy telling his mom about converting the energy of a small pebble to mach 3.


A young woman telling her boyfriend that she read something that posed the question about how when a person is upset, should you let them vent, or should you try to help them calm down (let them vent, she told him).


A girl telling her girlfriends about a guy who decided to sleep on all of the summits of Colorado, and the talk she heard him give about the training.


A group of friends talking about the elevation and how it wears you out, and the local in the group warning them that they would, in fact, get drunk much more quickly at high elevation.


A father venting to his wife and two very smart-looking school-aged kids about a certain member of the House of Representatives (I wonder if they knew to let him vent instead of trying to calm him down?).


A little boy of about 4 or 5, telling me to be careful not to touch the prickly plants because he hurt his finger touching them.


A girl telling her friends that she heard something about how all successful people had one thing in common: they loved the outdoors.


Two young guys talking about their friend who graduated from Columbia, and why in the world was she working in that job?



I thought I was there to be inspired by some beautiful hunks of rock.

But I was there to be inspired by people. That was my uplift.

I was there to remember that everything I want to do in my business revolves around listening to people and their stories, observing what they need, and then helping them see it and articulate it.

I was there to see that even when I'm not trying to pay attention, even when I think I'm looking for something else, I can't get away from this thing I'm driven to do—which is to listen and observe.

My 10,000 Hours


Observing the world around me and creating ideas about it has driven me for as long as I can remember. Pre-language even. Observation is my currency. To borrow from Malcolm Gladwell's Outliers, it's where I've gotten in my 10,000 hours.

Darla and I had talked about this the day before, but it wasn't until the moment on that rock that I really got it. Or the rock, I realized that it's not about doing everything on my list as quickly as I can. It's about giving importance to what I do best, and honoring it.

You don't need to go to the woods or the mountains to find your own currency. A plumber knows that as long as there is running water, they'll be work to do. A teacher knows that as long as babies keep being born, they'll be work to do. And I know that as long as there are people milling about on the sides of mountains telling stories, they'll be work to do.

I have these plans, and I'm very excited about them. I have a very full plate, including clients I'm (happily) committed to, and things in the pipeline that may take me places I haven't been before. I have a lot of roles to maintain. Which means I have a lot of chances to lose focus.

But I know that the thing driving me isn't going anywhere. I'm in no danger of losing my currency unless I just stop listening. And I don't know how I would ever do that.

Currency is just currency. It isn't action. It's isn't the work. But if you know what feeds your spring, you always know where to go when the action and the work are in question.

Want to sign up to receive these weekly posts via email? Look over to sidebar on the right! Get the first chapters of my ebook when you sign up there. Or, browse past articles and sign up right here.