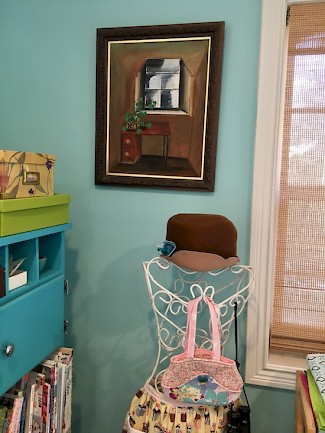 My mom has been trying to get rid of stuff. She is 85 and still lives in the house where I grew up. Though she has no plans to move from the house anytime soon, she's doing this sly thing of making us take stuff home with us when we visit.
A few weeks ago, she brought out this painting of my grandmother's that had been hanging somewhere in the house, and presented it to my sisters and me. "Does anyone want this?" she asked. I loved my grandmother and loved that she took up painting when she retired after a not-easy life that involved being widowed in her mid-thirties, while pregnant with her third child. But I had never exactly bonded with her art. It just wasn't my style, and this painting was a classic example. The colors weren't especially pretty, and the wood frame was heavy and far too fussy.
But sentimental Judi overcame me, and I said, "Yes!" excitedly. I took it home and hung it in my office. And now, I find myself looking at it every day when I sit with my laptop on the couch in the morning, drinking my coffee and reviewing what I have to do for the day.
My grandmother almost always painted from a photograph, but for this painting, she chose to paint a scene from her own house, where she lived from the late 1930s until the late 1980s.
I remember this dormer window, because as a child, I would play in that attic on Christmas with my cousins. It wasn't until I was an adult that I understood that attic room had been my dad's room. And it wasn't until a few years ago that I understood everything my grandmother did to keep her family together after her husband—my dad's dad—died in 1942 at the age of 40 (my dad was 11). Instead of sending her children to an orphanage, which is what everyone told her to do (can you seriously imagine?!), she got a full-time job, relied on neighbors to help, and took in boarders. Boarders! Like people staying in your house, waaaay before Airbnb. The borders must have taken my dad's room, so he moved to this attic room.
What did my dad think about while staring out that window? Did he think about what would happen if the German planes came? Did he think about how he wanted to be a scientist? Did he figure out how he was going to work a bunch of jobs and pay for college? Did he wonder if he was going to get shot in Korea when the draft notice came in 1952? Did he then find himself back home in 1954, staring out that window again and wondering how he got so lucky as to be sent to Germany instead? Did he think about how he would propose to my mom?
I never once had a conversation with my dad about this window (or this painting) so I have no idea, and he's gone, so I can't ask him.
But I know what I've been thinking about when I stare at the window in the painting.
I think, Judi, straight ahead, girl. Stop looking all around you and obsessing about what everyone else is doing. Stop with the metrics and the measuring yourself against this idea of success. Eyes forward, feet planted, and keep doing the work and putting the ideas in the world.
The painting may not be my style, but it's 100 percent my style to find messages in artifacts from those no longer with us. So I'm going to keep doing that.
Straight ahead, girl. Straight ahead.
Some Love for my Book!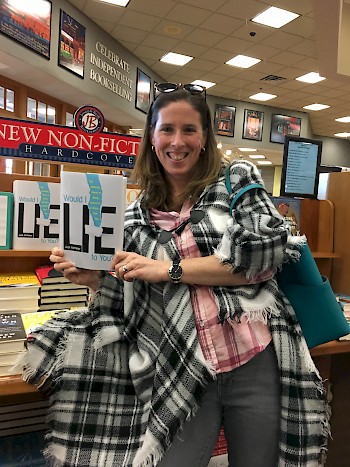 Last week, I got the chance to talk with Danielle Craig, a former TV anchor who hosts the podcast Happiness in Progress. We had a fantastic conversation about my new book, Would I Lie to You? The Amazing Power of Being Honest in a World That Lies, and she teased out a part of the book that is my favorite: when I talk about why it matters to stop doing the things we are demonizing others for doing. Listen to the episode. (If you are new here and are wondering what this book I speak of is, read about it here.)
Also, I was honored to be included in Gretchen Rubin's "What I Read in February" list! She is the author of the mega bestseller The Happiness Project, and her latest is Outer Order, Inner Calm. In the reading and books world, she is quite a tastemaker, so I'm thrilled to have made the list!
Want to Order My Book?
To order Would I Lie to You? follow these links to buy it at your preferred bookseller, including the audiobook (which I narrated). The library is a terrific option too. If your library doesn't have it, recommend they purchase it.