This is the first summer since 2010 that I've been home, like really home. The past nine summers all involved intense traveling and working long days to write scripts for live corporate events, like sales meetings.
Since in-person meetings are not a thing right now, those projects aren't happening. I replaced the lost work with other content work, so I'm just fine.
But it's interesting, because it means I'm home. All. Day. Every. Day.
I wrote a post last summer called This Was July, talking about everything that happened in July. It started out, "I traveled 14,000 miles."
This July, I've traveled maybe . . . 300 miles? And that was because I took last week off and went on some daytrips with my family to swim at nearby lakes.
This summer, I've gotten to do things I didn't know I needed to do. Like watch the movement of the sun across my backyard. I've wanted to plant a vegetable garden forever. I now know exactly where the morning sun hits the various spots that could be my vegetable garden, and at what point the shade takes over in the late afternoon.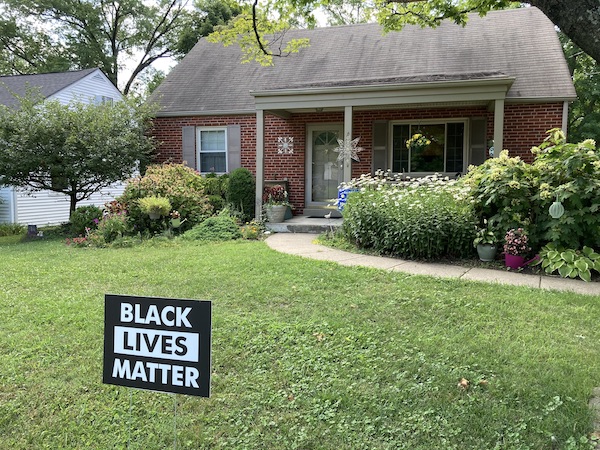 And speaking of my garden, this is the first summer that it hasn't already gone to shit. Look how great it still looks! That's because I am here to weed it and tend to it and water the flowering containers every day, versus having to rely on the 9-year-old, the 11-year-old, or the husband to remember to water when I'm traveling (which they rarely did). Also, do you know the difference that deadheading actually makes? Like it's not just a thing people say to do. It makes more blooms! Plus, it's quite satisfying to pinch off those dead blooms every night.
I've gotten to take part in the slower rhythm of the summer that I was jealous of all those years. I was right to be jealous, because it's great. I sleep in. I stop working at 5:30, earlier on some days, because we bought a big inflatable kiddie pool (before they all sold out) and a 16-foot inflatable air track, and I like to watch the kids do their slip-and-slide into the pool on hot afternoons.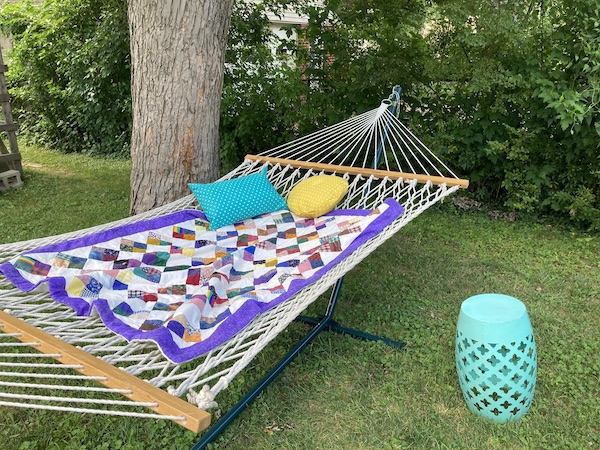 I've had the chance to lie in this hammock and read. I'm working my way through a pile of books (right now, I'm reading The Address Book: What Street Addresses Reveal About Identity, Race, Wealth, and Power, by Deirdre Mask, and it's fascinating). For once, I don't feel stressed that I won't make it through my stack of books. Because I have the hammock and I have the time.
Also, I'm here to straighten up the books at the end of each day in my Little Free Library, which my husband built this spring (adorable, right?). I have the time to talk to neighbors who walk by and browse it. I have the time to enjoy the little kids who come on bikes, eager to see what new books are there that day, and excited to leave with one of their own.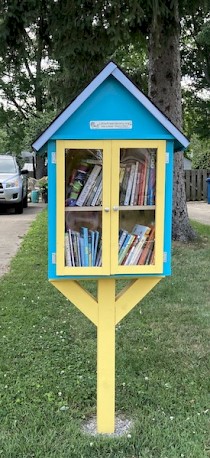 And finally, because I'm here, because I'm present, and because I've arrived at a place in my life where I'm no longer giving myself a pass on not knowing how to talk about racism, I've joined a neighborhood group to have uncomfortable conversations about racism. We aim to make change, beginning with our local community. Because we're mostly white people—mostly white women—we fully accept that change has to start with us, the white people who benefit from anti-Black racism. We're learning. We're listening. We're organizing. And we're speaking up instead of being part of white silence.
Interestingly, what I haven't used my extra time to do is write essays, blogs, or pieces to promote my honesty book. One reason is that, for me, these past several months have been a time of listening to the voices of people who don't get listened to enough, versus sharing my own thoughts. The other reason is that instead of writing about things like parenting or being honest or dealing with COVID stress or wearing a mask, I'm just doing the things.
Offering commentary isn't the same as living. I know that I'm the kind of person who needs to do both to feel like an engaged human. But I need to live and listen more than anything else right now.
***
Consider Direct Giving
I started following Simone Gordon, The Black Fairy Godmother, on Instagram a year or so ago. Simone lives in New Jersey, where she is a community organizer, a student, a mom to a special needs son, and well, kind of a fairy godmother (here's a great People magazine story about her).
She and her team host fundraisers each week to help women all over the country who find themselves in emergency situations—like fleeing an abusive partner, dealing with job loss, or trying to pay medical, utility, rent, or other bills. Her fundraisers secure food and diapers and clothes for job interviews. Many of the families she helps have special needs children, just like Simone. It's been amazing to watch Simone grow her following to more than 30k people on Instagram!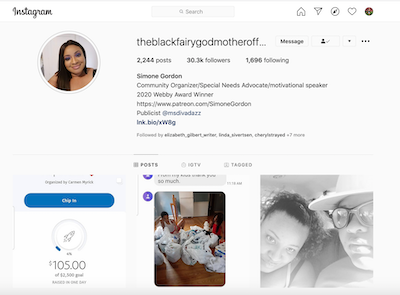 I didn't realize that in contributing to Simone's fundraisers that I was doing something called direct giving. While I'm a fan of charities and organizations with nonprofit status, there's also something that just feels right about giving money or items off an Amazon list directly to a family who has been systematically under-served and needs help right this minute.
I wrote a few months ago that when I start to feel overwhelmed, I ask myself if I'm in the group that needs help or the group that can provide help. Each time, the answer has been that I'm in the group that can help. So I help. That one idea has given me direction this year. Take it if it speaks to you.