What an interesting thing it is to have your book release not just on the last day of the year, but on the last day of the decade.
Would I Lie to You? The Amazing Power of Being Honest in a World That Lies comes out today, December 31, 2019!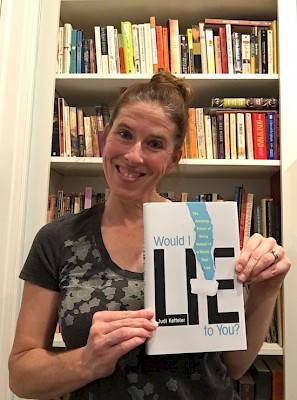 It makes me think back to what I was doing on the last day of the last decade. What was happening on December 31, 2009?
Well, I had a one-year-old, I had just found out I was pregnant with my second child, my career was starting to feel the effects of the recession as editors were getting laid off, my dad was rapidly declining from Alzheimer's, and my brother had died the month before. I didn't know it then, but all of these things would lead me first away from honesty, and then right back to it. In this way, the past ten years have represented both the best and the worst of my adult life. The most confusion, and the most clarity.
You could say that I was on a course to write a book about honesty long before I realized it. And now, to see the book come to fruition—to be available to anyone who wants to read it or listen to it!—is exciting, terrifying, joyous, and downright weird. It's a pretty great way to start a new decade.
If you have pre-ordered the book and it comes today, I'd love it if you took a picture and tagged me on either Twitter (@judiketteler) or Instagram (@ketteljm) with the hashtag #honestybook.
Upcoming Event at Joseph-Beth
I'll be at Joseph-Beth Cincinnati for a book signing and discussion on Wednesday, January 8th at 7:00 p.m. If you're local to Cincinnati, I'd love it if you joined me! My editor at Cincinnati Magazine, John Fox, will be there to facilitate a conversation about truth and lies and why I wrote this book now.
Want to Order the Book?
To order the book, follow these links to buy it at your preferred bookseller, including the audiobook (which I narrated). The library is a terrific option too. If your library doesn't have it, recommend they purchase it.
I'll see you in 2020!
PS. I wrote an adapted essay for TIME magazine that appeared online the weekend before Christmas. It's about Santa, but not about Santa at all. Read it here.