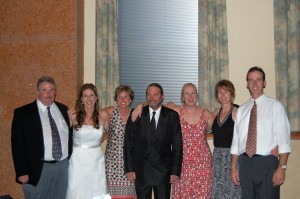 Tomorrow marks the two-year anniversary of the death of my brother, Paul. So, it's not a great week. But I also know that what happened this week two years ago set a new course for me, in a completely roundabout way.

It's complicated.

And it's a long story. But I'm taking a break from the newsletter next week, so you've got two weeks to get through it! (By the way, this picture of me with all of my siblings is from my wedding in 2007; I'm the bride, and Paul is the man in black in the middle.)

For anything to make sense, let me tell you about the day he died. It was sudden, and unexpected (but not really unexpected). My parents were out of town, and with no central hub for information, there was a series of frantic calls back and forth between me and my five other siblings. We learned of his death in a strange, fragmented way—which spoke to the fact that although he was our brother, he wasn't really connected to the rest of the family (his choice). That's what makes this week sort of terrible, because we wished it all could have been different. But in the days following his death, my siblings and I very consciously chose to be connected, and not take each other for granted. I've never felt so connected, in fact.

That stuck with me, and I wrote about it, but I wasn't sure what to make of it.

Then, in the year after he died, two more big things happened. First, I had another baby; second, my once-successful magazine writing business felt apart. A wonderful gain and a super frustrating loss. I spent huge chunks of time trying to figure out this strange teeter-totter between joy and grief, energy and failure, and things missing and things present. I ran miles and miles, working crap out in my head. I read dozens of books on motivation, success, leadership, and creativity. I talked. I listened. I observed. I worried. And I'm pretty sure I was cranky . . . a lot. I knew I had to create something different—a different business model, but also, a different attitude.

Building on Connection

The shift came when I started applying what I knew in one area of my life to other areas of my life (I wrote a blog post that helped me clarify this) But deciding to rebuild my business was only the first step.

When I thought about what was I going to build, I found that I was haunted by disconnection—not just the memory of a brother who wasn't connected, but also the isolation I was feeling from defining myself as "me against the world." In building a freelance business, I had been drawing a big chunk of my energy from proving people wrong ("You think I can't be a writer? Ha, let me show you!"), from being the anti-team player, and from being independent at all costs.

When I dropped that shield for a second, I realized that the thing I wanted more than anything—both for me and for the people around me—was connection. At first, I just had the idea that words connect—connecting a seller with a buyer, or a person with information. But the more I started to let in this idea of connection, the more I realized that connection is a state of mind, and a way of being. In this new business model, I wanted to work from that state of mind, and help other people get into that state of mind.

I'm a writer, so practically speaking, the way I was going to do that was through words, specifically through helping businesses tell the stories that helped them connect. I knew there were thousands of copywriters. But I saw that the great majority of them never got past the idea that it's only about words. I saw how my brand would be different.

I've written before about why rebranding is so important, but I'll be honest, I didn't know until somewhat recently that I was building a new brand because I wanted to feel more connected to my family, to my husband, to my friends and colleagues, and to the universe. In the same way, I didn't know that I was dying to collaborate, until a collaboration project fell in my lap over the summer. I didn't know that I was desperate to partner on projects with a brilliant designer, until I met one and we started working on branding projects together this fall (you'll hear more on that later).

When your business depends on building relationships with people, your brand has to be more than the thing you use to sell stuff. It should be built around something that feels more important to you than anything else. That can manifest in a single word or phrase (for me, "connection"), a concept, or an image (for you visual thinkers). It's deeply personal, without being private—because it's your business's face to the world.

A brand you love doesn't mean a lifetime of bliss, or effortless workdays. It isn't about perfection or success in every endeavor. And because we never stop evolving, it almost never feels like it's finished. But here's what it is: your inch of the world, the soul of what you do. The awesome thing I'm discovering is that when you're really in it, you don't care if people think you're wrong or right or crazy.

So, as Thanksgiving approaches, I'm thankful that I finally created the thing I really needed, just in time. Now, where to take it? Stay with me, and we'll find out.

Rest in peace, Paul.

To sign up to receive this as a newsletter delivered via email (or to browse past articles), click here.
Comments