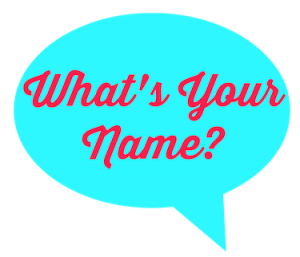 "What's your business called?" she asked.

I felt dread. I hate this question. Actually, what I hate is not having an answer. What kind of business owner doesn't even have an answer to this most basic question?

Actually, I have an answer. It just doesn't seem to fit anymore. My answer is that the name of my business is my name, because they have always been inextricably linked. I am my writing.I am my work. There's no illusion of anything bigger than me, or anything separate from me.

It's Judi Ketteler all the way. I couldn't even bring myself to change my name when I got married (which had something to do with politics, but I suspect more to do with how tied I feel to my identity as a writer with this particular name).

But it's not about maiden vs. married names. It's about evolution. And as I've morphed from being mostly a journalist (where you are your byline) with a side focus on copywriting . . . to a sharply focused copywriter and corporate storyteller (where byline in the traditional sense is irrelevant), I'm starting to see not having a company name as a liability. Mostly because the answer to "why don't you have a company name?" is just "because I haven't named it yet." I don't have a passionate defense of why I continue to cling to my name as my company—just leftover resistance to leaving bylines behind. In fact, I listed it as a 2014 goal: figure out this name thing. And I will.

So let's pretend I'm not messed up and just have a discussion about naming. I can't do the post yet where I walk you through when it's time to name your endeavor and how to separate "freelancer" from "business owner" because I look terrible in that particular shade of hypocrisy.

So instead, let's just talk about HOW to name your thing, whether it's your company or some side project within your organization that you have talked the higher ups into doing and now (holy crap), they want a name.

Five Ways to Name


It's not a coincidence that right now, I'm helping a few different clients with business naming. I will say that naming isn't my particular brilliance as a stand-alone skill. But if I get the chance to work closely with people and understand their business and their motivations, goals, and target audience, then I can be of service.

In fact, throughout the years, I've gathered so many anecdotes about how various companies have named their business that I could do a whole series of posts about the topic. My favorite, however, is Spoonflower. Co-founder and owner Stephen Fraser told me that he had the name "Spoonflower" in mind for a business long before he had the idea for the business that is now Spoonflower. (A spoonflower is a flower indigenous to North Carolina, the home of the company.) But now, looking at the gorgeous Spoonflower brand, I can't imagine a more perfect, beautiful name for the company (full disclosure: I'm helping to write the Spooflower book, to be released next year!).

Should the name of your business feel that right? Should it come to you in a vision? Should it be with you for years, just waiting to be released?

Kuddos to you if it happens like it did for Stephen. But more often than not, I think the name comes after the fact. And that's where the decisions come in. It's pretty much the same set of decisions you need to make whether you are a sole proprietor service provider (like me), or you have designs on building the next Google. There are exercises to go through (like writing down words and phrases that resonate with you) and domain names to search—and all of that is incredibly helpful.

But it's really about claiming the vision for how your company positions itself in the world.

I can think of at least five approaches companies use to hone that vision and craft their name, none better or worse than the other.


1.  The Tangible




Just call it what it is, with or without slang. The name offers a basic description of what the business does.




National Amusements, Buzzfeed, Netflix, Trip Advisor, Modcloth, Snapchat, Skillshare




2.  The (Apparent) Concept




Pick a concept to channel. Name the business around some idea that reflects what the business is about or taps into an analogy.




Frontier Airlines, Staples, Pep Boys, Whirlpool, Flickr, Basecamp, Chipotle, PicMonkey, Bing, Pandora




3.  The (Less Apparent) Concept




Choose something that has meaning to you, which can be explained ("oh, okay, I get it: what a cool name!"). But you're less concerned with others getting it right away.




Apple, Worldwide Pants, Squidoo, Starbucks, Target, ASICS




4.  The Wordplay




Just make up a word (or combine two words) that gets across what you're trying to do. It's infinitely fun.




Pinterest, Invisalign, Spotify, Instagram, Groupon, Yahoo, The Brandery




5.  The Namesake




This is often the default: just name the business after yourself (first or last name) or you and your partners. It works equally well for the biggest agencies and firms in the world, and the mom and pop shops around the corner.




Ben & Jerry's, Dell Computer, Procter & Gamble, Drs. Foster and Smith, Disney, Angie's list, pretty much every single law firm, accounting firm, and agency.


I think when naming, it's fun to try some from each category. You might quickly see that you are not the type to go in for a made-up word, no matter how clever. Or you might realize that the last thing in the world you want is a company that bears your last name.

The final piece of advice I'll offer is this: be very selective about who you tap to help you. I think there's a fun stage in the naming process where it can be cool to get insight from lots of places: your friends, family, neighbors, random people you meet in line while getting a latte. But at some point, cut all of that off and just decide on a core group you will trust. Too many opinions is the best way to kill a good name before it makes it to letterhead.

I would love my company name to pop into my head when I least expect it: a beautiful vision with an available domain name. But I'm guessing it's going to take work to find it. And that's okay. It's a fun process, and I'm up for it.

Oh, and next week, I'm at Confab, so no post. But I will most definitely be bringing back insights to share!
Comments
Posted by Carolyn on 04/30/14 5:01pm

Posted by Judi Ketteler on 05/01/14 3:24pm