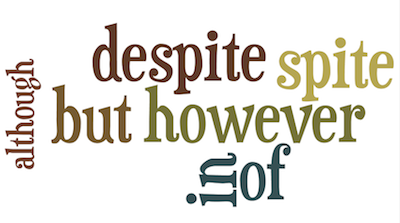 Sometimes I look at the chaos around me, like . . .



an email inbox teeming with messages regarding things I need to do


rush jobs for clients on top of already mounting deadlines


articles about industry trends that I know I should read to avoid being a moron


children who pounce on me with their needs the second I declare my work day over at 6:00ish and walk down the steps


50 other things I can't think of right now, but you get the point



. . . and I notice how it is all swarming around my ankles and pressing down on my shoulders and implanting weird ideas in my brain that will probably cause me to have a sleep filled with anxiety dreams . . . and I think: I manage to succeed in spite of all of this.

But I don't like that thought.

The thought I want to have is: I am succeeding because of all of this. Because of the people who value my work. Because of the family that counts on me to support them. Because of the spark in me that cares about doing remarkable things.

Because of.

In spite of makes you haggard, bitter, and worn down. Because of makes you bountiful. Innovative. Appreciative. And most importantly, it connects you with purpose.

This matters for careers, parenting, friendships. And definitely for content.

Too many brands are creating content in spite of the fact that they don't want to. The problem is that it shows.



Because-Of Content: Three Stories in One

Yesterday, I read a piece on the McMurry blog (McMurry is a big content marketing agency) about how too many organizations are "faking" their commitment to content. The ones that are doing it right aren't just telling one story—rather, they really have three stories to tell: (1) the story, (2) the story behind the story, and (3) the story about the making of the story. For example, (1) a beautiful video that frames an issue or talks about a product or service by telling a story (like GE's amazing Datalandia series), (2) a second video that captures decision makers talking about why they chose this story, and (3) a behind-the-scenes video that actually shows how they did it.

Three stories in one: the what, the why, and the how.

Now, I personally don't have that kind of budget to spend on three videos. Nor do I quite have the audience (yet!). But it's not about actually making all three of those videos—it's about having the meat that you could make three videos.

In other words, not only are you creating a story (in whatever medium—not just video), but you also have a distinct reason and careful thought process behind the story, AND, you put significant effort into creating the story, in which you learned interesting things worth sharing.

You are telling the story because of the story. Not in spite of the fact that you're late to the game and you really don't want to. The web crawlers can detect jibberish-like keyword-based content that doesn't say anything. But they aren't sophisticated enough yet to separate in-spite-of content from because-of content. They can't quite ferret out bitterness and half-ass-ness

But we can. You can. I can. Your potential customers and users can.

If this is all sort of a revelation (or you're just getting started with developing real content), don't worry so much about the pieces of content just yet.

First, get clear on your because of list. Do that, and the content that flows from it will naturally create three stories. We don't need you to necessarily make all three. We just need to sense the possibility.