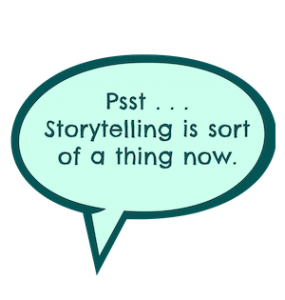 Every week, I see another industry article on storytelling. How to use it to create emotional connections. How GE is doing it. How Google is doing it. It's on HuffPo and all over the blogosphere. Fast Company, Harvard Business Review, and Forbes have run recent articles on the science and effectiveness of brand storytelling.

So, if I'm being honest, there is a little part of me that's like, sigh, I've been doing this and saying this forever, and now it's in vogue. I mean, Kevin Spacey talked about storytelling at Content Marketing World last month, telling attendees they needed to tell better stories. I can't compete with freaking Frank Underwood!

But that's just silly, bitter Judi. She's not actually that interesting.

Let's talk about what IS interesting 'Äì which is what this means for you.

Yep, YOU.

Storytelling as a thing to do in your business is fast reaching critical mass. Actually, let me revise that. Storytelling is not in any way new. Big and small brands have been doing it for years, with varying degrees of success. What's reached critical mass is talking about storytelling as a thing to do in your business.

So we're going to talk for a second. And then you're going to go DO.

Five Ideas for How to Tell Better Stories

Pretty much all of the articles on storytelling spend the bulk of the word count offering up examples of the big brands that are using storytelling effectively. And believe me, I am tempted to do that. Because I heard Katrina Craigwell from GE talk at ConFab in May about the visual storytelling they're doing on Instagram and YouTube, and it's amazingly cool.

But the big brands already get all the attention. Their examples are sliced, diced, and written about over and over again.

And honestly, trying to draw all of your lessons from what the big brands are doing is like me thinking I can be a better runner just by studying what the elite runners are doing. Our lives, resources, and goals are pretty different. Their workout might be inspiring, but it doesn't help me a whole lot where I am.

I don't have Shalane Flanagan's VO2 max, and most hospitals, attorneys, schools, architects, professional associations, tech companies, independent retailers and goods producers, healthcare-related practices, hospitality providers, and assorted other mom-and-pop, small business, and b-to-b enterprises don't have GE's budget.

But we've got legs, lungs, and motivation.

So, how are you going to bring this storytelling zeitgeist home? I have five suggestions.


1. Breathe.


Breathe to be silent, so that you can hear the ideas 'Äì either the ideas in your head or the ideas from your team members. If you're the one on the team who always talks, stop talking and listen.Breathe is number one on the list because you can do it right this second, with no investment. And there can be a huge and immediate ROI.


2. Focus on developing your characters.


Who are the major characters in your organization? The founder? Your customers/users/attendees? The employees? What situations have those characters been in that are worth telling stories around? The stories you tell in your blog and through video, in your web copy and articles, and in presentations and ads should be people-centered. It's never just about a product or service: it' about what happens in people's lives when they use that product or service. Let the characters emerge organically. For example, this video that Savannah Bee Company produced is character storytelling at its best (scroll to bottom of their page to see). By meeting the founder in this piece, I feel like I know the company now.


3. Find the stories locked inside the facts.


"We've been around since 1899" isn't an interesting story, until you talk about who the "we" is and the weird/inspiring/surprising things the people who make up that "we" have been doing between 1899 and now. When you're describing your company, pitching your company, or updating the blog, dig underneath the features and benefits until you find the human element. There is a fantastic piece in the current issue of Tin House Magazine called "Place Names of 501 Filomeno" by Mike Smith. He surveys the "places" in his house (from the kids' favorite climbing tree to the kitchen corner to the bookshelves), in alphabetical order. As he talks about these things, the story of his family and marriage emerges as it relates to the object or location. The story sneaks out of the factual existence of each thing. It's brilliant. Go find it on the newsstand and read it. Sure, it's "literary." But it would be a fantastic exercise for just about any organization to try.


4. Think like a content distributor.


BuzzFeed, Netflix, LinkedIn: these sites are in the business of distributing stories. It's easy to say: "Oh, sure, they tell great stories because they are legit content distributors. But we just make widgets." I guarantee you, there are stories floating around (try breathing to find them) that your organization can tell to engage, delight, and challenge your widget-loving audience—and make them want to share. Ask yourself: what stories could we produce that would make our audience feel emotionally invested in sharing? I've told everyone I know they should watch the Netflix show Orange is the New Black, because it spoke to me so strongly. What will speak to your people like that?


5. Don't leave home without a good About page.


Your About page is possibly your most important piece of narrative. If you're stuck on how to use social media, stuck on what kind of video to make, and stuck on crafting the perfect elevator pitch, then take a step back, dig in and focus on one thing to start: telling a great story on your About page. (Breathe first.) Make it as good as any piece of web content can be 'Äì filled with memorable characters, conflict, turning points, and resolution.

The big boys and girls of industry are going to keep doing mind-blowing things with storytelling. It's great. We shouldn't be jealous. Because it creates an even stronger environment for our organizations' stories to thrive.
Comments
Posted by Bec on 10/03/14 11:13pm