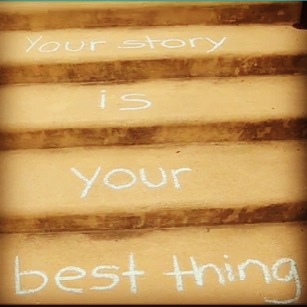 As you gear up for the new year (I'm SO ready for a new year), it's time to take a fresh look at your company's story—specifically, the opportunities out there to tell your story that you might be overlooking. Some of you are already doing a fantastic job: A+ for you! But I know a lot of you are still struggling. So consider this your friendly "where should I be telling my story?" checklist for 2014.

Place #1:  In Your Head

Let's start here, because it is undoubtedly the most important place. Getting your story right in your head is a deal breaker—because if you don't know it, believe it, and live it, no one else will. If it's just you in business by yourself, then you really only have to concern yourself with your head. If you have associates and employees, then you have to make sure they know it in their heads, too. Knowing your story in your head means you feel it in that place you feel things that you know to be true, even if they are weird, imperfect, or illogical (in fact, it's better if they are those things).

Place #2:  Your About Page

I've spent the year beating About pages to death. But only because so many of them are still so . . . what's the word? Oh right: bad. A few more words I'd use to describe the majority of About pages: Boring. Voiceless. Uninspiring. Plenty of About pages sound decent enough: they just don't forge an emotional connection. Your company history—by itself—will not forge an emotional connection. Neither will your entire life story without the context of why anyone should care. People click on "About Us" to find out about your business. Why would you deny them your story? It's probably a really good story they'll like. Set the facts to the side for a minute (they'll still be there, don't worry) and talk candidly about why your company is REALLY in business.

Place #3:  Your LinkedIn Profile

Most people do not use the opportunity that LinkedIn provides. They basically put up their r√©sum√©. I guess there is still a place for a r√©sum√©. But I don't think it's your tool for forging connection. Take a look at the fields on LinkedIn. You get an entire "Summary" section—which really should be called your "Story" section. Use it! (I use mine.) I just worked with an executive who is transitioning from a large company into a new venture, and we made sure to tell her story on LinkedIn, making full use of all of the fields. If your entire LinkedIn profile is just a list of facts and dates and incomplete sentences that start with action verbs, take another look.

Place #4:  Your Elevator Pitch

I recently taught some classes to Bad Girl Ventures students—including one on perfecting the 60-second pitch. Watching these women (and one man!) go from their shaky elevator pitches the first night of class to the polished stories they told on graduation night last week gave me renewed faith in the elevator pitch! Done well, your elevator pitch can be a rousing call-to-action. If you have 60 seconds in front of a room, shape that precious minute into the story of what your company/venture/movement is really about. It might be a personal story; it might be a client story; it might be the story of what you envision. But it should definitely be more than just an uninspiring blanket statement about what you do.

Place #5: Your Video(s)

People are definitely getting smarter about the power of video. I mean, yesterday, I watched a video of dogs trying to walk while they were wearing doggy boots. We will click on almost anything that seems interesting, which means that these sharable chunks of inspiration we sprinkle throughout our day are incredibly powerful opportunities to tell your story. I did a video for my business last year (it's on my home page), and I learned a lot about how videos need to tie to your brand and your story. My best advice? Invest some time and energy to get your video (or series of videos) right; script them out (or, if you want it more candid, work with someone who can pull out your story on camera).

Place #6:  Your Presentations

Every single presentation I give starts with a story. Granted, I am almost always talking about how to better use storytelling in marketing, so I would look very silly if I didn't use storytelling myself. But this applies across the board. Speaking of Bad Girl Ventures again, the other presenter who taught the same night as me had the task of explaining why your credit score matters and how to make it better. Ugh, numbers, I thought. But instead of launching right into FICO and other scary acronyms, the presenter told his story: how he got into trouble with credit early in his life, the mistakes he made, the impact it had—and how it led to his mission of trying to educate others about credit. Listening to him tell his story, I suddenly had a reason to care about credit. It colored my entire attitude about what he said. The magic of a good story is that it gives you a reason to keep listening, and to open up a space in your emotional center and drop a pin.

I'm still not tired of saying it: Your Story is Your Best Thing! Discovering the places you can tell it (and learning how to shape it) can be a fun adventure. Really. I promise.

I have at least one more newsletter in me this year. So I'll see you next week. After that, we'll reconvene in the New Year—otherwise known as The Year of Your Story!
Comments
Posted by Rob Bunting on 12/11/13 5:05pm

Posted by Judi Ketteler on 12/11/13 5:59pm