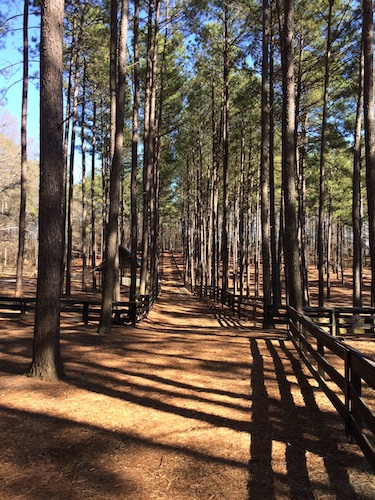 For the second year in a row, I spent the last weekend in February at Serenbe, with two of my best writer girlfriends, Jodi and Kate. (That's a snapshot of my favorite place.)

There may have been at least one incident of alcohol-induced silliness caught on video, but other than that, we spent our time sober, eating delicious food, unable to start a fire in the cabin fireplace, and talking about life and relationships and work.

The trip came at exactly the right time for me, because I had been collecting angst in the weeks before.

You know how dust gathers? Angst does that with me.

I used to think I was patient.

I'm not.

And it's sort of your fault.

I'll explain how it's your fault in a minute. But let me return to the angst first. It starts with the fact that my early career was built on rejection. I sent hundreds of ideas into the publishing universe in the form of queries for stories I wanted to write. Most got rejected, but enough didn't that I was able to build a career as a successful freelance magazine writer. Rejection and being ignored actually motivated me. I was used to having a lot out there at any one time, and everything taking forever.

Then I stopped doing that kind of work—a story I've told a lot, so I don't need to tell again. (This post about not waiting to be picked anymore summarizes it well.) Everything became so much more immediate, both in my client work, and because I started a blog. This blog. That's where you come in. Because I love writing it, and you are reading it and saying all kinds of nice things to me. It's immediate gratification: I get an idea; I write it and send it out within a day; people read and respond. It's tidy and efficient and gratifying.

So the areas of my business that aren't so tidy and gratifying tend to cause way more angst than they used to, because I'm not as practiced at waiting for things to happen. For example, I've dug back into essay writing—or I should say, the process of trying to sell essays to magazines and consumer web sites. I suddenly feel like I have so much to say, like time is running out, and like I'll never get there. You know, there. That magical undefined place better than here.

Sitting in front of the non-existent fire, I told Kate and Jodi how I felt like there was such a gap between where I was and where I wanted to be. And Kate said something like, it doesn't sound like that big of a gap at all, if you just look at the facts of it.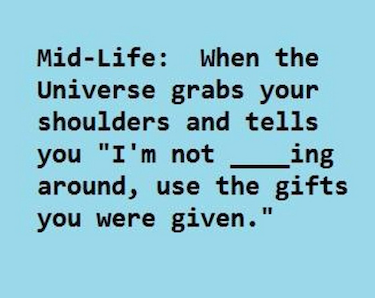 Facts have a tendency to get in the way of irrational ramblings.

But yes, she was right. Some of those facts are numbers: I need to put more out there to get the return I want.

So I've been doing that.

Of course, I'm still impatient, and reacquiring the taste buds for rejection has not been easy.

And, as this quote I saw on writer Elizabeth Gilbert's Instagram feed illustrates, some of it is surely mid-life restlessness. The idea that it's time to *really* do my thing.

But the big realization I had while walking the lovely pine needle strewn paths at Serenbe was that I really need to CHILL OUT. I need to settle in to whatever journey I'm casting myself on. Settling in isn't to be confused with settling. Settling is what you resort to when you're scared or just plain tired. Settling in is what happens when you are gasping for air at the beginning of a run, and you take a breath and relax into the movement.

We all need to know when to settle in.

Breathe . . .

See how good that feels?

Anyway, I had a whole other thing I was going to write this week about why you need to create extraordinary content (the topic of my soon-to-be-released video!). But I needed to write this more I guess. If for no other reason than to gently remind myself to chill out already.