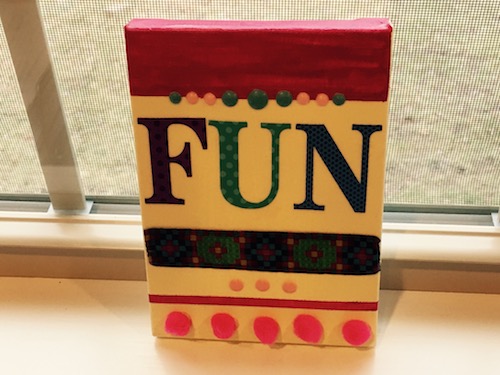 In 2016, I made it a goal to do more fun things for myself, unrelated to work or responsibility. That's when I started going back to gymnastics, and reclaimed the joy of doing cartwheels on the beam and back flips on the floor. I wrote about it for Good Housekeeping, actually.
In 2017, I made it a goal to try to have more fun as a family. We went on our first real family vacation (to the Michigan beaches), and I also started taking the kids to the trampoline park, so we could share the joy of flipping together. I wrote about that too, for The New York Times.
This year, I decided that it was time to bring fun into yet another area of my life: my work, specifically my work with clients.
It's interesting the way things swing, because I would not necessarily have identified "fun" as the main element of what I wanted in my client relationships a few years ago. In the beginning of 2016, I was very focused on keeping my head down and working. My attitude was basically: I've been at this for 15 years. There aren't a lot of new surprises anymore. Steady work is better than loving everything I'm doing.
And then a series of disappointing things happened . . . personally, professionally, and definitely politically. Disappointment is a very useful thing because it often forces renegotiation. You realize what you will settle for, and what you won't settle for. I realized that I wouldn't settle for work situations that I really, really didn't like, because the whole point of being a freelance writer was that I got to work on my own terms. I'll accept that I have to pay a ridiculous amount to provide health insurance for my family. I'll accept that I have to pay high self-employment taxes. I'll accept that I don't have stability in the traditional sense. It's all worth it to me to be independent. But only if I get to choose.
So I'm going to choose fun.
Now, it isn't the same kind of fun as jumping on a trampoline or doing a handstand on the beam.
In fact, I've been thinking closely about what this kind of "fun" looks like inside the space of client work. I certainly have it in some of my work. Just not enough of it—and that's my fault. Identifying what stands out in the work I love and what's missing from the work I don't has helped me drill down on how I define fun:
Fun is feeling like I'm being of real service to a client.
Fun is mutual appreciation.
Fun is being on a team where people are empowered to do what they're naturally good at.
Fun is freedom to follow my curiosity, even if the money isn't stellar.
Fun is working with a company that values ideas over process.
Fun is learning new subject matter, even when I feel like I'm in over my head.
Fun is storytelling—real storytelling with narrative nuance.
Fun is working with people who are genuine, even if they're a little nuts and sometimes disorganized.
Fun is having the right support.
Step one is to make sure that my clients who already meet these criteria know that I'm excited to be working with them (if I haven't made this clear to them already).
Step two is to find more fun people and projects. I have three ideas about how to do that.
First, I'm investing in making a new video! I shot it this past weekend with my videographer friend. The spirit of it is pure fun and I can't wait to share it! My hope is that if I put fun out there, that's what will come back to me.
Secondly, I'm getting back to my roots of pitching and writing the stories I'm interested in, and letting my curiosity and interests lead the way.
And lastly, I want to figure out how to create peak moments for both myself and for my clients. I'm in the middle of reading The Power of Moments, by Chip Heath and Dan Heath, authors of Switch and Made to Stick. They write about how peak moments are what make experiences memorable. Even if the entire experience isn't wonderful, if you have a peak moment—and/or a great end—you will regard the experience in a positive way. Interestingly, I wrote about the peak-end rule in a workout piece for Oxygen magazine a few years back (if you follow the link, see tip #4). I took the advice to heart for workouts, but never thought about how I might create those peak moments in my professional work.
Who knows what the year will bring, and where this focus on fun will take me. But I'm excited to follow the path . . .