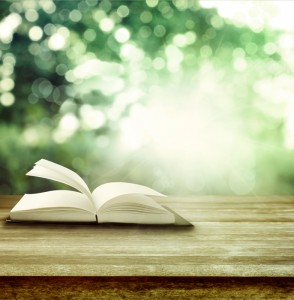 I've been thinking a lot about books lately.

Well, I'm pretty much always thinking about books.

But I've been in a ravenous reading phase the past month. Probably because it's so hot and the mosquitoes are so obnoxious, that I've found myself spending any tiny moment of downtime that comes my way lying on the couch reading books.

This has led me to see that pretty much everything is like a book.

You, me, our lives, our projects, our jobs, our businesses, our families.

Books. All of it.

Mysteries, thrillers, romances, how-to manuals, coffee table offerings, self-help, memoirs, biographies. And lots of epic sagas.

Live with a three-and-a-half year old, and you feel like an encyclopedia most of the time. (What color are volcanoes? Where do potatoes come from? Does grass have feelings?)

It's a bit of a silly Barbara Walters question, but really: what kind of book are you?

Actually, I think a better way to ask it is: what kind of book are you making right now?

Your Thing, Part by Part

The reason that projects, initiatives, and lives feel similar to books is that the parts are a lot alike.

Think of this as an exercise 'Äì for your business, your department within the company, your career, or some project you're engaged in, whether it's teaching your children manners, running a marathon in every state, or streamlining a database. We'll just call it Your Thing.

Okay, what's the title of Your Thing? (Every book has a title.) Is it straightforward? Is it funny? Is it a play on something? The title sets the tone. What tone do you want to set? Is it "Mike's Database Project" or is it "Data is Beautiful, Too"?

Who are you dedicating Your Thing to? (I love reading book dedications before I read the book, and then again after.) Strip away everything else, and what's the heart? Is it all for someone or something near and dear? Be clear on that.

Now, the acknowledgments. Who do you need to acknowledge first, before you get into the meat of Your Thing? (I also have a weird love for reading book acknowledgments. Maybe I'm always looking for my name or something.) Who helped you on this journey of databases or business building or manner teaching? Who do you still need to help you? (They are your acknowledgments after all; you can decide to make them asks instead of after-the-fact thanks).

Does Your Thing need a foreword? If so, is it by you? Or is it by someone else? If it is by someone else (your kid, your boss, your client, your spouse) what are those key things they would say to introduce Your Thing and pull the audience in? And, why them?

Now, the meat. Everything in the middle. The content of Your Thing. The story. What's the arc? Who are the characters? How is it organized? What is the conflict? The pain points? The solutions? You know the drill. What fills the pages?

Of course, Your Thing needs an index. What are the keywords? (Literally, if Your Thing is a business, these might be your key search terms.) But, if it's less literal, what words/concepts jump out about Your Thing? And do you know exactly where to find them? Can you easily point others there?

Now, you will need an author bio. These are brief. What will yours say as it relates to Your Thing? Practice restraint. But say something real.

Oh wait, one more thing: we need jacket copy! A snazzy-sounding elevator pitch for Your Thing. What is the lovely-sounding high-level sales pitch for it?

Thinking of Your Thing like a book gives you a framework for wrapping your brain around it. Because the publishing? That's the doing.

So go do Your Thing.
Comments
Posted by Lisa Tener on 08/27/14 3:16pm

Posted by Judi Ketteler on 08/27/14 6:07pm

Posted by GuestRoogyZH on 03/27/17 2:33am