On April 2, 2002, I got laid off. Well, maybe fired. It was a situation where no one did anything wrong, but the job was just a wrong fit for my skills and, well, my income goals. The problem is, I was just about to buy a house: the day before the firing, my offer had been accepted on a cute little Cape Cod in a chic part of town. I was going to be a 27-year-old empowered single woman homeowner.

And then . . . not so much.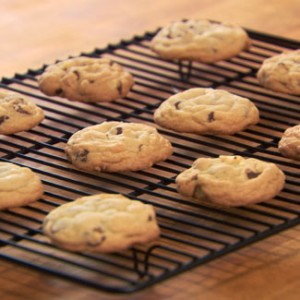 I was NOT happy. I called my real estate agent in tears to tell her to cancel the contract. I sat at my parents' kitchen table crying and fuming. Why was this happening to me, I wondered?

Now, I have whole years of my life that are blurry, but those few days are very, very clear. This is how I remember it: I was pissed off for a whole day. I probably kicked some things and had mini road rage. And then the next day, I woke up and ran 10 miles (I was training for a marathon, so this was a normal thing to do). Somewhere around mile four, I had this thought: "I could make chocolate chip cookies this afternoon." (I remember the exact hill I was running down when I had the thought.)  So I made them. And in the process of getting my hands all gooey and chocolaty, I had a crazy powerful realization: making cookies at 2:00 in the afternoon meant that I was free. Free.No one had a claim on my time anymore. I could make a decision, and then do it, without checking with anyone.

I stopped being mad, and I saw opportunity instead. The next day, I decided I was going to be a freelance writer. I remember that moment, too: I was sitting at my computer, and it suddenly occurred to me that I could just do it. Sure, I had to stay living in my apartment and give up the idea of home ownership for a while. But that only meant that I had seed money: a down payment that didn't get spent. I don't even remember being scared. I wasn't smart enough about business to be scared. Since I didn't know all the ways I could either fail or succeed, I just did. I didn't bother asking anyone for permission, because I knew I would just figure it out.

And I did figure it out—pretty well, I might add, since I've made more money as a writer than I ever did working for someone else. It's only now that I look back and ask myself: "Hmm, that's interesting. How did I do that anyway?"

Ditch the Diagram of Great

So last week, I found myself at a huge conference of (mostly women) entrepreneurs just days before my 10-year business anniversary. The event was called Be The Change, and some of the woo-woo of it wasn't entirely my scene, but that's okay, because it's valuable to get exposed to lots of different kinds of people and ideas. I had some good a-ha moments, and enjoyed some awesome presentations. Suzanne Evans, who puts on the event, is an extremely gifted speaker and coach and understands the mechanics of business building as well as anyone I've ever heard.

But, because there was so much business information presented, I saw a whole lot of uncertainty in the crowd, too. And while the message was one of action, I saw a lot of early-stage entrepreneurs still stuck on the idea of getting it right. They wanted to understand every detail, to know exactly how to plan, and how to build their list and scale their programs in exactly the right way. It looked a lot like asking for permission. I overheard some women talking in the bathroom; one was telling the other about a coaching business idea she had, but she was stuck on trying to figure out which business coaches to run it by so she could know for sure if it was really what she was "meant" to do.

If you have to think that hard about it and ask other people, you've gotta get out of your head, and shut down the "meant to be" train for a while.

We have this message floating around that we are meant to do something great. (I've jumped on the bandwagon of this message myself because it's pretty and shiny.) But honestly, that's a pretty overwhelming thing to think about. When did we start obsessing about what we're "meant" to do? What about just doing it? And great feels like a lot of pressure if you keep talking about it, thinking about it, and analyzing a diagram of it, especially because greatness is ridiculously relative. The trite language of it all makes me crazy. It's like, stop using so many damn adjectives and just go do something.

I'm glad that I was so dumb and unconcerned with greatness when I started my business. I'm glad I started out green and got strategic later on. I'm glad that I let a plate of magic cookies guide me to my fate. Because it doesn't matter how much you know until you just start doing stuff.

I know Steve Jobs' face is everywhere these days whenever vision and entrepreneurship are mentioned. But as I celebrate my 10 years of working for myself and not asking permission, I can't get the parting lines to his Stanford speech out of my head: Stay hungry. Stay foolish.

Stay hungry, and stay foolish, people. And to that, I would add: make cookies.

Want to sign up to receive my newsletter via email? Look over to sidebar on the right! Get the first chapters of my ebook when you sign up there. Or, browse past articles and sign up right here.
Comments