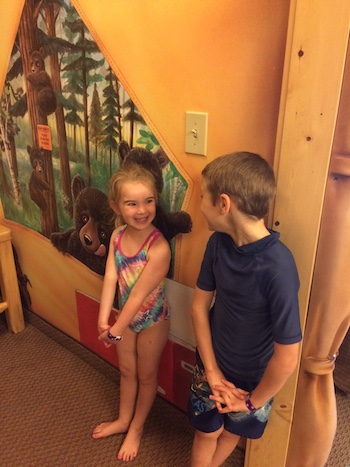 I always dreamt of going to Kings Island (here in Cincinnati) as a child: the magical land of roller coasters, rides, and snow cones! The Brady Bunch even got to go there! The place loomed large in my childhood, but we never went because . . . there were nine of us, it was too expensive, and we weren't The Brady Bunch. Various siblings went with cousins or friends, and I seethed with jealousy each time. I didn't go until I was in my early 20s, and I have to say, it did live up the hype that first time. I've been a handful of times since, each time with diminishing returns.

In June, my husband and I took our two kids and met some other family there. Our kids will have only the best memories, and I love that. But me? Not so much. It cost $200 for our family of four to get in the park (we don't have season passes). Food is a joke. My two brothers-in-law each got a drink and a slice of pizza, and it was more than $30. The rest of us packed our lunch and ate outside the gates at tables. The umbrellas weren't up and we couldn't get anyone to help us raise them. It poured down rain at one point during lunch, and no one came to help (there were at least 25 staff people within feet—at the gates). It was a cloudy day, so not very crowded. That was GREAT for not having to wait in line for rides. But it also meant that the vending booths weren't properly staffed (and only the slowest people were working). We waited forever to get ice cream and/or drinks. No one at KI seemed to care about any of it. Parents know to bring water bottles and fill them up at water fountains, because under no circumstances are you EVER getting a cup with ice for free (or even for a quarter). It is an a la carte experience in the least positive way.

For me, the day summed up Kings Island's brand philosophy: Our stuff is awesome and we are an institution that children dream about and we know people are going to come, so beyond building rides and attractions, we don't have to work that hard to delight them or cater to them. Enough of them will buy season passes that we can gouge the one-off families. They've spent their money and we really don't care if they come back.

So, when we booked a stay at Great Wolf Lodge (a huge indoor water park resort + hotel) a few weeks ago (part two of the "staycation" activities), I expected a repeat of KI.

To stay overnight at GWL, we spent $300+, which was more than KI. But I don't regret a penny of it. The experience at GWL was completely different than KI in every way. Every customer matters, every interaction matters—this seem baked into the standard operating procedure at GWL. We were having some trouble getting into our room using the bracelet key system. A staff person was right there to help us (her job seemed to be to hang out in the hallways and help people). Every time we had a question or needed something, a staff person was right there—friendly and helpful. The lifeguards were awesome. Every inch of the space was geared toward kids and families. I went to buy a snack from concession, and couldn't believe it when I saw the food was reasonably priced, no different than what you'd expect to pay at a fast food restaurant. When I said I needed four waters (with a groan), the woman asked me if I wanted bottles of water or just cups of ice filled with water for free. Cups of ice filled with water? For free? I almost danced with joy!

Our suite opened up onto a very small patio, with a view directly to Kings Island (they are right next to each other). Never once did I wish we were there.

The best part: our family had an amazing time at GWL. Like an actual amazing time, not the kind you just Instagram because it looks amazing. We enjoyed it so much. Even my husband—who is generally a curmudgeon about such experiences and spending lots of money on them—said, "That was money well spent." That's not a phrase he uses lightly. (That's our kiddos above, in the room, ready for another day of fun at the water park.)

Do Detractors Really Matter?

I am absolutely a brand advocate for Great Wolf Lodge. I will tell anyone who asks (and probably people who don't) about my experience there and the good feelings around it. The more I talk about it, the deeper the feelings grow. Not only will I go back, my advocacy may get others to go. I feel a bit invested in all of it. I want them around. I want them to be continue to be successful.

This got me thinking about the relationship between brand advocacy and profit. Kings Island will no doubt makes millions of dollars, and sell season passes with no trouble next year (their real goal). They already have a reputation. They are Kings Island—a giant in the amusement park industry. Do they even need me? Yes and no.

It's all a matter of scale. A few brand detractors for a small brand can spell big trouble. A few brand detractors for a big brand? Who cares? Except for the thing about concentric circles and people's tendency to really like talking about their positive and negative experiences. I am telling you this experience I had at Kings Island now. Maybe you have had a similar experience there, and you've now been reminded of it. Perhaps you were on the fence: a Kings Island season pass . . . or something else. You might go with the something else, and have a conversation with someone about why you went with the something else, and that person may go on to do the same thing, and it becomes exponential.

I'm not trying to shut down Kings Island! That would be a real shame, because they have all the potential in the world to improve their customer service a bit. But no brand is ever too big to fail, or so decked out with fantastic stuff (the Diamondback rollercoaster!) that they don't have to care about basic human interactions. The minute they start thinking they are, the minute something shifts and the concentric circles begin expanding faster.

By contrast, such small things, such small moments and exchanges, can create brand advocacy. The woman at Great Wolf Lodge who smiled and helped us get into our room and said, "it's always tricky the first time" (so that we didn't feel stupid): that creates advocates more than their dozen water slides. It's just much, much harder to build and maintain the small things. Coasters are made of steel and wood. Smiles are a bit more difficult to engineer.
Comments