At least a third of my little chats with my almost-five-year-old son are re-living his greatest moments. I call them the "Best Of Max" conversations. "Mommy, remember when I ate five pieces of pizza that night? Remember when I first climbed that tree? Remember when I got to watch eight Spiderman episodes in a row?" (Yeah, that last one doesn't reflect so great on me, I know.)

Little kids aren't trying to live in the past when they do this (they don't even know this is a thing to do). They're also not suspicious of their past successes and happinesses. Or overly modest. Child psychology probably has a more official explanation, but I think they carry the good times around with them as a reminder that any situation has the possibility to be the next greatest moment. Instead of thinking, "I'll never experience anything that cool again," it's: "That was so cool: I wonder what could possibly be next!"

So, how great would it be if you and I could walk around with "Best Of" reels, playing in our heads? Our best moments. Our best conversations. Our best dates. Our best adventures. Our best accomplishments. Our best speeches.

And not with the idea that our best behind us. But rather, with the idea that it's part of us—and possible again, at any moment.

My "Best Of" . . . For You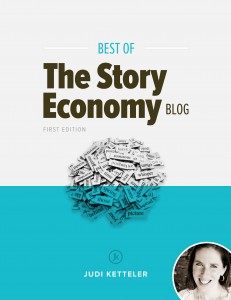 That's why I decided to gather a few of my "Best Of" moments and put them into a new eBook!

I went through the past two years of newsletter articles, and chose my 10 favorite to put into a nice little PDF (straightened out and made much prettier by Tom Lewek). It's called, The Best of The Story Economy Blog (First Edition), and I'm really excited to share it with my readers!

Downloading just requires two quick clicks. First, look in the sidebar to the right (you'll see it right away): put in your name and email, and then you'll be taken to the link (it will also be emailed to you). Click the link, and you'll get the PDF. As long as you use the same email you use to get this newsletter, you won't start getting duplicate emails from me or anything (I know that's super annoying).

If you like what you see, tell someone else you think might enjoy it. A "Best Of" really isn't very exciting if you don't get to share it.

Having a "Best Of" inspires me to keep creating new content. It's not about the past. It's about what might be right around the corner. So enjoy, and think about what your own "Best Of" might look like!
Comments
Posted by Rachel Thomason on 06/12/13 2:27pm

Posted by mchone on 07/16/13 12:19am