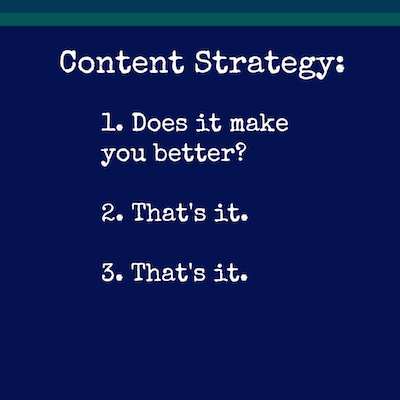 My closest friends know that I'm obsessed with writer Ann Patchett, mostly because I talk about her, you know, constantly. I could write a whole newsletter about my obsession with her (I might at some point—you've been warned), but for today, I'm going to bring you a specific gem of insight I got from her recently.

On a plane a few weeks ago, I was re-reading the title essay to her essay collection This is the Story of a Happy Marriage for the . . . let's just say "many-th" . . . time. Each time I read it, something else catches me. What caught me that morning between Cincinnati and Atlanta was a particular passage where she describes the turning point in thinking about her first marriage. From hindsight, she shows us the disaster the marriage was, but she hadn't yet come to terms with that at 22.

"Does your husband make you a better person?" her friend Edra asked her one afternoon while they were swimming. Patchett writes that she replied to her friend: "That's not the question. It's so much more complicated than that."

Edra says back: "It's not more complicated than that. That's all there is."

On a personal level, I'm glad to answer "yes" to this question (most days, at least). But that's not what actually struck me, because in the background of my mind, I was thinking about what to tell a client about their content. They had asked for an opinion, and a strategy.

I took out my idea notebook and wrote this down: "Strategy for content: does it make you better? That's all there is."

So . . . does your content make you better? Because . . . guess what? That's all there is.

The Story of Happy Content

I'll start with me (don't I always?).

The content I create for my brand makes me better. I don't have to think hard about this question. It is easy and quick to answer. I am a better human, a better writer, and a better business person for what I put out there.

Admittedly, this question is weighted heavily toward writers who are blogging. We really, really should be able to answer yes.

But, we can still apply it to larger organizations quite easily. A few questions that come to mind:



Is your content helping other people?


Is your content helping your organization innovate, or be more efficient, or change its culture, or generally get better at something it's trying to be better at?


Is your content advancing ideas in the world?



What if "does this piece of content make us better?" was the question your organization asked before every post went live? What if you asked it even before the editorial calendar was finalized? What about before the marketing budget was allocated? Because if there is no more money to create new content, the answer is a bit of a moot point, isn't it?

Which is all another way of saying: don't ask the question if you're not going to change anything if the answer is "no."

The faint of heart are probably not going to be up for asking this question. I get that. When Ann Patchett finally asks it, she ends that troubled first marriage. But I don't think it's giving it away to say that she finds a happy marriage in the end (since it is the title of the book).

She writes of that happy marriage: "I continue to think back to Edra, standing in that swimming pool on a bright day in the summer. 'ÄòDoes he make you a better person?' was what she asked me, and I want to tell her, Yes, with the full force of his life, with the example of his kindness and vigilance, his good sense and equanimity, he makes me a better person. And that is what I aspire to be, better, and no, it really isn't any more complicated than that."

With the full force of life is a lot. But you really shouldn't accept anything less.