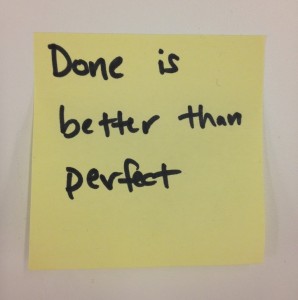 I spent a big chunk of the weekend mulching my garden beds. And thinking. As I hauled bags all over the yard, I thought about how my garden is in this weird pre-pretty state. It WILL be pretty, there is no question about that. And there is something pretty about its potential—the shoots of hosta and coneflower peeking out, the tiny buds on the hydrangea bushes, the empty window box, waiting patiently.

I thought about how terrible it would be if gardens just stayed hidden until everything was in full bloom. If all the gardens in the world agreed that they couldn't present themselves until the perfect moment—some magical sunny day in early June.

Preposterous, right?

Except we do it all the time, with some of our best stuff.

All. The. Time.

Go Beta or Go Home


The fear that we're not "ready" yet means we don't promote a service, put the page up on the site, or launch a thing until it's exactly perfect. Even when we know the thing itself (the product or service) is actually great, it's hard to see it through the pre-pretty period. So we hold off telling the story until the magical June day. But that promise of perfect is just a distraction. And it doesn't usually make what you're offering that much better. Getting it out there is what makes it better.

Often, you need the active, public-facing, interim period for the good stuff to really be good. I've never been much of a Microsoft champion, but I definitely think they're onto something pretty great by releasing stuff before it's perfect and then letting users help them make it better.

Forget about Microsoft and the big boys though. Beta is about you and me, too. It's just harder to spot in your own business or job.

So, here's my example: for years, I've been talking about how I want to do more speaking at events and more storytelling workshops for big companies. I've been doing it here and there—as the opportunity finds me. And every time I've done it, it's been awesome. But I haven't really been going after it. I didn't realize it was a key part of where I want to go until somewhat recently. And then once I realized it earlier this year, I did a lot of talking about it. But not that much action. A few weeks ago, big company contacted me to do one of these workshops (fingers crossed that the proposal is accepted!). I was thrilled! It's like I spoke it aloud, and someone heard me. But still, I had nothing about it on my site.

So I came up with a plan. I was going to create The Best, Most Beautiful Page Ever. A page on my site with speaking clips and links and fleshed-out talks. I was going to do a video. I was going to gather testimonials from people who had attended a workshop. I was going to wow the world with this idea.

You know, eventually. Because wowing takes time and money. I sketched it out. Made lots of notes. Looked at other people's speaking pages. And did approximately nothing.

Inspired, a few days ago, I picked my notes back up again. I sketched out the video and contacted a friend about helping me. I emailed some people about testimonials. So, we'll make the video, and THEN I'll make a page on my site, I thought. That seemed like progress.

But around 4:00 yesterday afternoon, it occurred to me that there was no reason to wait. Number one: I already HAD a great video to use as a placeholder until I get this one finished. And number two: the page didn't have to be perfect. And what would perfect be anyway? Perfect would just be a package. But what matters most is the idea—the thing itself. The storytelling workshop. And I know it's solid. It's better than good. It has a place in the world and can make a difference for companies. Am I the only one doing it? Probably not. But I know that I do it really, really well.

So I took the rest of the workday, created a page, and sent it live before dinner. It's right here! It's far from The Best, Most Beautiful Page Ever. But it's enough to start with. It's Beta, Judi-style. And it gets me focused. My focus is what's going to make the difference right now—not how great my page is.

I'm seeing a lot of effort in the digital marketing space around making things that are just average look great. Recently, I came across a marketing guy who talks about how your products don't need to be that great to have success—you just need to know how to market them. Smoke and mirrors is what you need, he says. Just pile on the adjectives, and people will buy.

I fundamentally disagree. In fact, I want a stronger word than disagree. I think you should start with products and services that are over-the-top great, by nature of what they are. Don't hire me to make something you don't even believe in sound better. Put the energy into the thing first, and then invest (as it makes sense) in making the package it's in prettier—not the other way around. If you approach your offerings that way, it's a lot easier to launch them before the package or the page is perfect.

If you believe in it, then don't hide out until blooming season. Put it live now.
Comments
Posted by Rob Bunting on 04/09/14 10:51pm

Posted by Ken on 03/07/17 8:42am

Posted by SmiffurpifsIA on 03/09/17 6:13am