In April of 1942, a young woman who was eight months pregnant was widowed suddenly. Her husband, just 42, died of high blood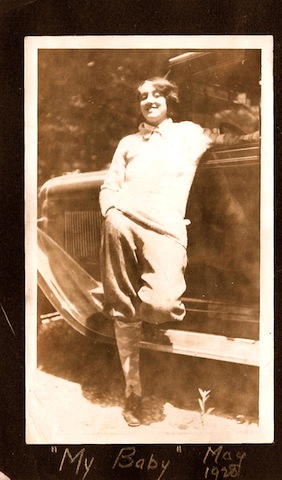 pressure (there weren't any drugs to control it as there are now). She already had an 8-year old girl and an 11-year old boy at home.

Having just survived the Great Depression, the family was already of modest means. And now, the widow's sole source of financial support was gone. Plus, there was a war on. And it's not like there were encouraging mommy blogs or proven paths for single mothers.

It was dire.

Almost everyone told her the same thing: put those kids in an orphanage. You can't support them.

The woman was my grandmother, and she ignored them all. (The photo of her is from my grandfather's photo album.)

Instead, she moved her family to the tiny second floor of their home, and took in boarders. (My dad often talked about sleeping in that stuffy attic room.) Then, when the baby (my aunt) was 18 months old, my grandmother went to work. She provided for her family, and they kept their house.

It became her story: the mess of what she had to do to survive, the thing driving her.Raise these kids. Support this family. Keep them out of an orphanage. Prove people wrong. Be the person they need. Be the person I need.

And then, people helped her. Of course they did. A friend of the family took my dad under his wing and taught him about being a man. People got it. They saw her living that story. They connected with it.

And it turned out okay. She lived a long and happy life, with 19 grandchildren (of which I'm the youngest), an unbroken family that went on to create more unbroken families, and bunches of Sunday dinners.

 
Marketing Mash-Up


Because family history has been on my mind lately, and because I like to put weird things together in my head just for fun, I started thinking about mashing this story with what I help people do in their marketing.

So, what if we collapsed the 70 years and pretended it was still then, but really it was now? And my grandmother started a service business—an Etsy shop, a medical billing service, a cleaning service, an event planning business—whatever her inclination was. And she hired me to create her brand voice.

The first thing I would say is, "Vivian, let's talk about why you do what you do, and let's make sure we tell that story on your 'ÄòAbout' page." Because her story would be everything to her business. Not only would it be the thing driving her, it would be the thing driving sales. People would connect, and buy. And once they saw that she had the goods to back up the language (because of course she would—that's part of the story), they would buy again. And then they would tell the story for her.

I would create the strongest "About" page possible for her, because it's the first place potential customers go in today's relationship economy. We'd work to make her site look gorgeous, but it's her story that would make it stand out from the pack.

If all of this quasi time travel is confusing you, here is the point: your "About" page is a huge opportunity to tell your story—because I know you have one. It might be jumbled and weird. But it's in there.

I spend so much time with clients, working on these pages. And every single one I do is different—on purpose. Sometimes we pair a company history with a manifesto. Sometimes it's a bio-style page. Sometimes it's info-graphic driven. But it's always the way it is for a reason that connects back to the story.

Because I'm always giving mini-lectures on "About" pages anyway, I figured why not pull it all together into an actual class?

That's why I'm offering a free teleclass, "What Are You 'ÄòAbout' Anyway? Making Your 'ÄòAbout' Page STAND OUT." It's Thursday, September 6 at 2:00 EST. You can find out more about it here: http://judiketteler.com/teleclass-what-are-you-about-anyway. We'll talk about the three things you must have on your "About" page, how to transform facts into narrative, and the one-sentence thing that's almost always missing from "About" pages. I'm super excited to do this class (I geek on this stuff), so please register and tune in!

Listen, people don't connect with your story if you don't tell them. There are a dozen or more ways to tell your story. But the most basic one—and the one that requires only minimal technology—is to craft a killer narrative on your site.

Have a fantastic Labor Day weekend. Kiss summer goodbye, and let's get this Fall started already.

And Grandma, thanks for passing down your stubbornness. It's serving me as well as it served you.

Want to sign up to receive these weekly posts via email? Look over to sidebar on the right! Get the first chapters of my ebook when you sign up there. Or, browse past articles and sign up right here.