Shondaland
Interviewing poet Maggie Smith was a real highlight for me! Smith is the author of the poem, "Good Bones," which went viral in 2016.
Her new book, Keep Moving, offers great advice and inspiration for making it through difficult situations. Read the Q&A here.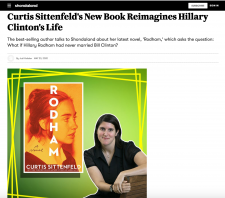 I'm a serious Curtis Sittenfeld fan girl, so it was a thrill to get to interview her about Rodham, her novel that reimagines Hillary Clinton's life if she hadn't married Bill Clinton.
This piece for Shondaland is a Q&A with Sittenfeld.