Greater Cincinnati Behavioral Health Services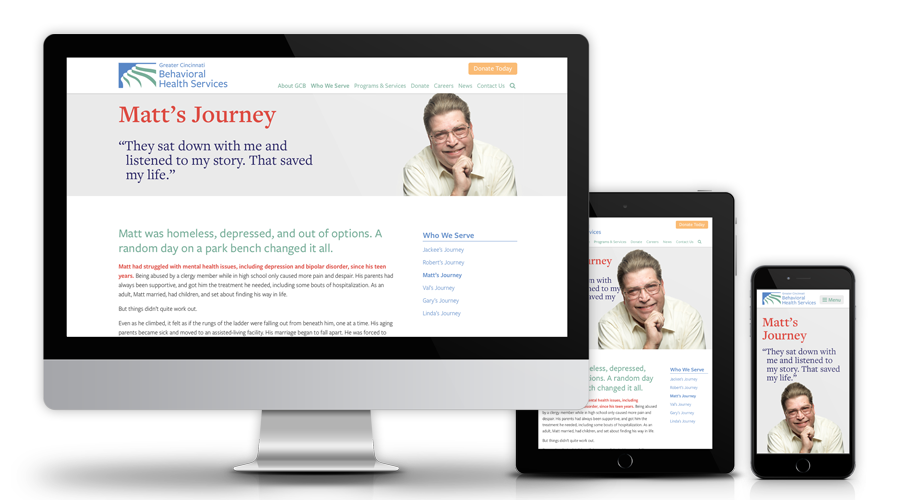 Greater Cincinnati Behavioral Health (GCB) is the region's largest behavioral healthcare organization. Their existing site was outdated, didn't engage donors very well, and didn't fully tell their story. Core Five Creative, GCB's web design and development agency, engaged me to develop the voice and write the copy for GCB's new site. I worked closely with several key stakeholders at GCB to learn about the organization's differentiators and key messages. I wrote all the copy for the new site, including Home and About, as well as all Programs & Services copy and bios for the Leadership Team. I also got the chance to interview six GCB clients and write their thought-provoking and inspiring stories.
Visit the site or read the client journey stories.
"I became acquainted with Judi Ketteler when she was brought on by Core Five, the team GCB hired to develop its new website. Judi gave new voice to our organization with her well-crafted, insightful writing. She has an interview style that is thorough yet approachable, putting her subject, whether a member of executive leadership or a client with mental illness, instantly at ease. Those same traits are reflected in her stories and program descriptions, bringing a much-needed humanity to our website and allowing us to connect with the public as never before."
— Andrea Paul-Taylor, Community Relations Manager, GCB