Cincinnati Magazine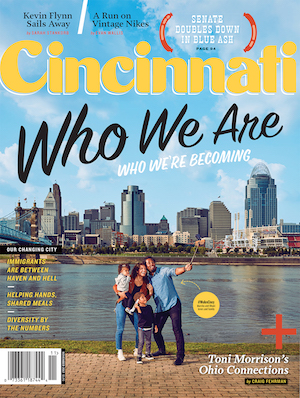 I'm now a regular columnist for Cincinnati Magazine, writing a piece in every other issue. My column is called Welcome to Middlehood.
I write about life here in Cincinnati (obviously), what it means to grow up, have a career, and raise a family here. I write about love and loss and creativity and running and anger and shame and honesty and the unrelenting hills of Cincinnati. Or at least, that seems about right.
Knowing When to Click Unfollow, for May 2019, is a meandering, tangent-filled meditation on everyone I should stop following on social media.
Reconsidering the Meaning of the House I Grew Up In, for March 2019, tells the story of the ranch house in America. It's about far more than the ranch house though. Nazi Germany and confronting my own white privilege are also involved.
Traveling With Kids is Such a Trip, my essay for the January 2019, is about what I realized while traveling solo with each of my kids during the same 30-day time period.
A Deal With My Dead Dad, my essay in the November 2018 issue, talks about the little favors that my dad does for me, like reminding me what happened after WW I. The interesting thing is, he's been dead for 5 years.
Getting Rid of What's Not Worth Worrying About, With Swear Words, my essay in the September 2018 issue, is about how I decided to give myself the gift of creating a fuck budget after reading the book, The Life-Changing Magic of Not Giving a Fuck. (Apparently, some readers didn't like that I used the work "fuck" about 50 times, but luckily, that's not a line item in my fuck budget.)
Family Trips and Potato Chips: Connecting with Cousins, my essay in the July 2018 issue, is about my 19 first cousins, and my summer memories involving them. I heart my cousins, and my childhood would not have been the same without them!
Love Medicine: The Pain of Finding a Cure, my essay in the May 2018 issue, is about how I grew up thinking medicine could solve all problems, only to realize that it was no longer solving the problems of the people I loved most dearly.
What We Take into Adulthood – And Pass on to Our Children, my essay in the March 2018 issue, is about the fear of tears that my 7-year-old daughter and I share. Mine shaped me into a better person. What will hers do?
Sisterhood in Middlehood: The Questions, my essay in the January 2018 issue, is about the four Ketteler girls, and how my sister's newfound evangelical Christianity is challenging our relationship.
Uphill Climb, my essay in the November 2017 issue, is about seven lessons that I learned on seven hills.