Cincinnati Magazine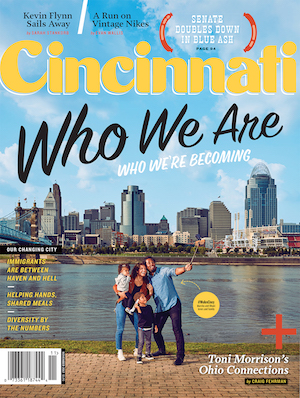 I've been a regular columnist for Cincinnati Magazine since 2018, writing a piece in every other issue. My column is called Welcome to Middlehood.
I write about life here in Cincinnati (obviously), what it means to grow up, have a career, and raise a family here. I write about love and loss and creativity and running and anger and getting older and honesty and the unrelenting hills of Cincinnati. Or something like that.
My Life in Maple Trees is about the maple trees I've known and loved, and why it was so hard to say goodbye to the one in my front yard.
Iceland to Go is about what I learned when I traveled to Iceland, after subtly stalking the country for 25 years.
New Ways to Get Old is about how I'm coming to terms with my aging body.
Step Up to the Plate is a parody of my town's city council meeting, casting it as a baseball game.
Visiting the Church of the Long Run is about how long runs are my way of going to church.
Call Me by My Name is about the importance of calling people by the name they prefer, instead of thinking you know better.
How to Live to be 86 is about how my 86-year-old mom is always surrounding herself with knowledge and unlearning the things her generation was wrong about—and how she's passed that on to me.
Was I Part of the Gymnastics Abuse Problem reflects on my history judging gymnastics and the dysfunction I often saw around me.
Can Our Children Ever Feel Blissfully, Daringly Untrackable Like We Were?asks questions about the freedom I had as a child vs. the freedom my kids have today.
How My Patio String Lights Helped Me Huddle Against the Storm of 2020 is about how my family made it through the year.
My Little Free Library Helped Me be a Better Neighbor is about the joy my Little Free Library has brought me, especially in the year 2020.
What Menopause Taught Me About Recognizing Racism is about reckoning with my own racism (helped by hot flashes) and the full-on white fragility so often on display in my community.
An Ode to the People and Things That Have Helped Me Weather the Pandemic is about, well, exactly what the title says.
In Defense of the Selfie talks about what I realized after I discovered my dad's "solider selfies" from the 1950s.
How Books and Cats Helped Me Figure Out Who I Was Meant to Be is about the books and the cats that have shaped my life.
How to Make Honesty Matter in a Post Truth World coincided with the release of my book about honesty. It talks about why I wrote the book and why honesty still matters. A lot.
My Freelance River Dance is about my "unformula" for success as a freelance writer, which mostly involves being like a river.
My Life as a Kentucky Buckeye is about being from Kentucky, without *really* being from Kentucky. And also, living in Ohio. (You can also listen to me talk about this essay, and my column in general, on this podcast episode.)
The Upside of Entropy is about finding meaning in the effort it takes to keep chaos at bay.
An Honest Conversation about Priviledge is my attempt to have, well, an honest conversation about privilege, in the aftermath of the college admissions scandal.
Knowing When to Click Unfollow is a meandering, tangent-filled meditation on everyone I should stop following on social media.
Reconsidering the Meaning of the House I Grew Up In tells the story of the ranch house in America. It's about far more than the ranch house though. Nazi Germany and confronting my own white privilege are also involved.
Traveling With Kids is Such a Trip is about what I realized while traveling solo with each of my kids during the same 30-day time period.
A Deal With My Dead Dadtalks about the little favors that my dad does for me, like reminding me what happened after WW I. The interesting thing is, he's been dead for 5 years.
Getting Rid of What's Not Worth Worrying About, With Swear Words is about how I decided to give myself the gift of creating a fuck budget after reading the book, The Life-Changing Magic of Not Giving a Fuck. (Apparently, some readers didn't like that I used the work "fuck" about 50 times, but luckily, that's not a line item in my fuck budget.)
Family Trips and Potato Chips: Connecting with Cousins is about my 19 first cousins, and my summer memories involving them. I heart my cousins, and my childhood would not have been the same without them!
Love Medicine: The Pain of Finding a Cure is about how I grew up thinking medicine could solve all problems, only to realize that it was no longer solving the problems of the people I loved most dearly.
What We Take into Adulthood – And Pass on to Our Children is about the fear of tears that my 7-year-old daughter and I share. Mine shaped me into a better person. What will hers do?
Sisterhood in Middlehood: The Questions is about the four Ketteler girls, and how my sister's newfound evangelical Christianity is challenging our relationship.
Uphill Climb is about seven lessons that I learned on seven hills.